The Doula Advantage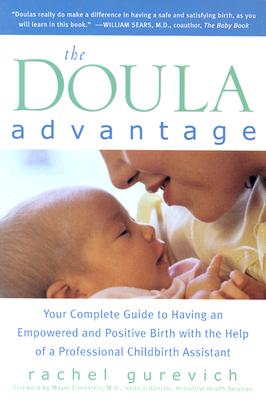 The Doula Advantage
Your Complete Guide to Having an Empowered and Positive Birth with the Help of a Professional Childbirth As
Three Rivers Press, Paperback, 9780761500582, 288pp.
Publication Date: March 25, 2003
* Individual store prices may vary.
Not Currently Available for Direct Purchase
or
Shop Local
Enter your zip code below to purchase from an indie close to you.
Description
The Doula Advantage
Your Complete Guide to Having an Empowered and Positive Birth with the Help of a Professional Childbirth Assistant
by Rachel Gurevich

Take Control of Your Childbirth Experience
New moms are spreading the word to pregnant women just like you: Doulas make pregnancy and childbirth the celebratory experience it is meant to be! Doulas are professionally trained women who provide support before, during, and after delivery. Research has shown that doulas help women have positive birth experiences, decrease the need for pain medication, improve breastfeeding success, and reduce the need for cesarean sections and other invasive procedures. Author Rachel Gurevich interviewed more than 235 women and birth professionals to bring you this best-kept pregnancy secret. Inside, you'll find real mothers' stories and discover how doulas make a joyful difference in childbirth. You'll learn:
·The many ways doulas provide labor support, whether you plan a "natural" or medicated birth
·How to find, hire, and choose the right doula
·How specialized doulas can help you before or after the baby's birth
·How doulas help the dad-to-be
·And more!
Foreword by Mayer Eisenstein, M.D., medical director, Homefirst Health Services
Praise for The Doula Advantage :
"Doulas really do make a difference in having a safe and satisfying birth, as you will learn in this book." — William Sears, M.D., coauthor, The Baby Book
"Comprehensive, thought-provoking, and highly moving. . . . A must read for any woman thinking of using the services of a doula." — Ann Douglas, author, The Mother of All Pregnancy Books and The Mother of All Baby Books
About the Author
Rachel Gurevich is the assistant editor for Myria Media Inc., an award-winning Web site for moms. The author of fabjob.com's Guide to Become a Doula, she writes for ePregnancy magazine and lives in Brooklyn, New York.