Triumph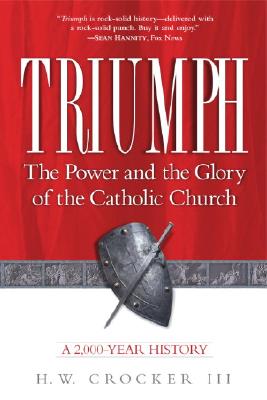 Triumph
The Power and the Glory of the Catholic Church
Crown Forum, Paperback, 9780761516040, 512pp.
Publication Date: September 23, 2003
* Individual store prices may vary.
Buy at Local Store
Enter your zip code below to purchase from an indie close to you.
or
Buy Here
Description
For 2,000 years, Catholicism the largest religion in the world and in the United States has shaped global history on a scale unequaled by any other institution. But until now, Catholics interested in their faith have been hard-pressed to find an accessible, affirmative, and exciting history of the Church.
"Triumph" is that history. Inside, you'll discover the spectacular story of the Church from Biblical times and the early days of St. Peter the first pope to the twilight years of John Paul II. It is a sweeping drama of Roman legions, great crusades, epic battles, toppled empires, heroic saints, and enduring faith. And, there are stormy controversies: Dark Age skullduggery, the Inquistition, the Renaissance popes, the Reformation, the Church's refusal to accept sexual liberation and contemporary allegations like those made in "Hitler's Pope" and "Papal Sin."
A brawling, colorful history full of inspiring pageantry and spirited polemic, "Triumph" will exhilarate, amuse, and infuriate as it extols the glories of Catholic history and the gripping stories of its greatest men and women.
"From the Hardcover edition.
About the Author
H. W. Crocker III is the author of "Triumph: The Power and the Glory of the Catholic Church" and "Robert E. Lee on Leadership: Executive Lessons in Character, Courage, and Vision," as well as the prizewinning comic novel "The Old Limey," He has worked as a journalist, a speechwriter for the governor of California, and a book editor. He lives near the battlefields of northern Virginia.
Praise For Triumph…
"Mr.Crocker's book is engaging, provocative, and eminently readable. It should be around for Vatican III."
—William F. Buckley Jr.
"Harry Crocker propels us through two millennia with wit and insight. While irreverent to man, his reverence to God is never questioned in a must-read for non-Catholics as well as Catholics."
—Robert D. Novak, syndicated columnist and commentator
"Harry Crocker has written the best short history of the Church in English since the Second Vatican Council. In short, a Triumph."
—Fr. C. J. McCloskey III, director, Catholic Information Center
"I used to think that the history of the Catholic Church was the greatest story never told. But it's been told now—in Triumph—with all the verve, aggression, and even humor of John Wayne in The Quiet Man. This is rock-solid history—delivered with a rock-solid punch—and is the most essential Catholic book since the Catechism of the Catholic Church (though it's a lotmore fun to read). Buy it and enjoy."
—Sean Hannity, Fox News
"H. W. Crocker III has indeed brought about a triumph with his concise and informative history. Here is a book for the general reader that provides a grand view of the Church's progress through time. Triumph is a book that will strengthen the faith of Catholics and give others an exciting and complete account of the two millennia of the Catholic Church. Magnificent!"
—Ralph McInerny, Michael P. Grace Professor of Medieval Studies, University of Notre Dame, and author of the Father Dowling mysteries
"A biting, unaplolgetic romp through Catholic history that debunks some long held myths and celebrates the glory of the Catholic faith. A much needed Triumph."
—Raymond Arroyo, EWTN news director and host of The World Over