Your Over-35 Week-By-Week Pregnancy Guide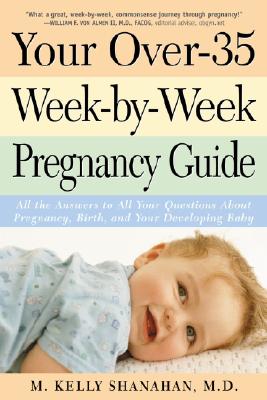 Your Over-35 Week-By-Week Pregnancy Guide
All the Answers to All Your Questions about Pregnancy, Birth, and Your Developing Baby
Harmony, Paperback, 9780761526988, 432pp.
Publication Date: January 4, 2001
* Individual store prices may vary.
Buy at Local Store
Enter your zip code below to purchase from an indie close to you.
or
Not Currently Available for Direct Purchase
Description
Know What to Expect Week-by-Week
Preparing for the arrival of a new baby is both a joy and a challenge. This is true at any age, but as an expectant mother over the age of 35 you want real answers for your unique needs and concerns. With wisdom and compassion, Dr. Kelly Shanahan shares her own experiences as an obstetrician and over-35 mom. Her detailed and reassuring approach will help you understand the significant changes in your body and life as well as your baby's development. Inside, you will find:
.Explanations and answers for your special health concerns
.Advice about making career, relationship, and lifestyle adjustments
.Practical tips for safe weight gain, exercise, and travel
.Excerpts from Dr. Shanahan's journal of her over-35 pregnancy
From pregnancy planning and proper nutrition to labor and delivery, this informative book will fully prepare you for the birth of your healthy, happy baby.
"A must-read for expectant couples over the age of 35 and a valuable reference for pregnancy at any age." Lynn D. Montgomery, M.D., director, Maternal-Fetal Medicine, Rocky Mountain Perinatal Center, Missoula, Montana
"This book addresses virtually all of the questions commonly asked by expectant couples. Great job." E. Albert Reexed M.D., professor and chairman, Department of Obstetrics and Gynecology, Temple University
"A work of art and a work of love, with a lot of good science thrown in along the way." R. Daniel Braun, M.D., FACOG, clinical professor, Department of Obstetrics and Gynecology, Indiana University School of Medicine
"What a great, week-by-week, commonsense journey through pregnancy " William F. von Almen II, M.D., FACOG, editorial adviser, obgyn.net
About the Author
M. Kelly Shanahan, M.D.: When I was a small child, I wanted to be a jockey, but I soon grew too tall. Then, when I was 11, a fall from a trampoline changed by life: I ruptured my spleen and had major surgery. From that time, I knew what I wanted to be when I grew up: a doctor. My course never faltered. I graduated from high school, attended Bryn Mawr College, majoring in biology, and was accepted at the University of Virginia School of Medicine. When doing my obstetrics rotation and delivering a baby to a woman having her fourth child, I found my specialty. I did my ob/gyn residency at Temple University Hospital in Philadelphia. It was trial by fire. The program at the time was in a state of transition and we were short-handed and under supervised, but I learned how to think on my feet. I came out of that program well equipped to handle any emergency. After almost three years in practice, I decided to look West for a more balanced life. I found a job at Lake Tahoe, with another woman. Shortly after I moved here, I met a wonderful man, and we were married. He always knew he wanted children, and convinced me that starting a family would be a good idea. I agreed, and being the successful physician who had always accomplished everything I set out to do figured getting pregnant would be easy. I was wrong. I was not ovulating. I embarked on the rocky pathway of infertility, treating myself for almost a year. I got pregnant on Clomid, but miscarried. I miscarried again in 1997. That loss was devastating. I felt like I was a double failure both as a woman and as an ob/gyn. I joined an e-mail support group and told my story on the Women's Health Forum at obgyn.net, a site for which I acted as an advisor and expert. It took me six months to get the courage to try again. I conceived, and thanks to treatments for the antiphospholipid syndrome that was the cause of my miscarriages, this third time was a charm: after Pergonal, progesterone, aspirin and twice daily heparin shots, I delivered my daughter on 12/1/98. She is a miracle, and I am so grateful to have her. I now know how lucky we really are; in May 2000, I miscarried again, despite treatment. I am still very proud of the "MD" after my name I worked very hard to get it but now it stands for more than "Medical Doctor." Now it stands for something much more important and rewarding "Mother/Doctor."
Praise For Your Over-35 Week-By-Week Pregnancy Guide…
Know What to Expect Week-by-Week