Skinny Bitch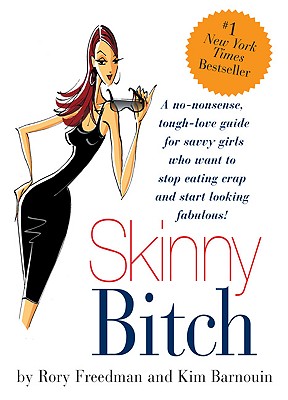 Skinny Bitch
A No-Nonsense, Tough-Love Guide for Savvy Girls Who Want to Stop Eating Crap and Start Looking Fabulous
Running Press Book Publishers, Paperback, 9780762424931, 224pp.
Publication Date: December 27, 2005
* Individual store prices may vary.
Buy Now
or
Shop Local
Enter your zip code below to purchase from an indie close to you.
Description
Not your typical boring diet book, this is a tart-tongued, no-holds-barred wakeup call to all women who want to be thin.
About the Author
Kim Barnouin holds a master of science in holistic nutrition and offers guidance on her Healthy Bitch Daily blog (www.healthybitchdaily.com). A former model, she is the author or coauthor of seven books and has successfully counseled models, actors, athletes, and other professionals using the Skinny Bitch method. She lives in Los Angeles.

Rory Freedman is a former agent for Ford Models.
Praise For Skinny Bitch…
Hartford Courant
"…incredibly informative and entertaining… Co-authors Rory Freedman and Kim Barnouin provide tough-love talk mixed with facts and common sense...

Freedman and Bamouin speak to the reader like a friend who isn't afraid to tell you what's on her mind. They back up their arguments by citing study after study and take the technical talk out of the discussion so as to make a more easily digested point.

This is the first "diet" book I've ever read that has made me laugh out loud numerous times. That being said, since no one warned me, I'll let you in on a secret - the book will gross you out. In the same vein as Fast Food Nation, there are graphic descriptions of factory farming and unsanitary dairy farm practices. It was easy for me to put down Fast Food Nation but this book is so funny, I had to keep going.

Almost immediately, I was one of the transformed. In fact, as soon as I got halfway through Chapter 4, "The Dead, Rotting Decomposing Flesh Diet", I had to call and change my dinner plans because I decided to go vegan on the spot.

West VA University's The Daily Athenaeum, 6/8/10
"a cynical, foul-mouthed read with only good intentions that could get you into your best bikini shape for this pool season…The book's conversational tone makes for an interesting and entertaining read – not simply just dos and don'ts of dieting and exercise like most weight-loss plan guides."