Eat Greens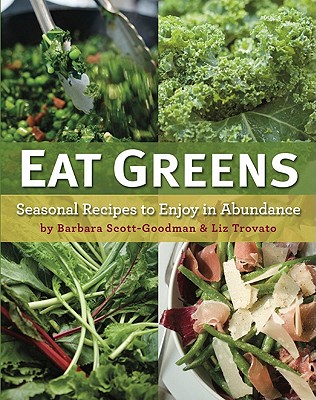 Eat Greens
Seasonal Recipes to Enjoy in Abundance
Running Press Book Publishers, Hardcover, 9780762439072, 240pp.
Publication Date: May 2011
* Individual store prices may vary.
Buy Now
or
Shop Local
Enter your zip code below to purchase from an indie close to you.
Description
Eat Greens includes more than 120 delicious recipes for a wide variety of dishes that use green vegetables from artichokes to zucchini to prepare healthy appetizers, soups, salads, main courses, and side dishes. More than vegetarian, the recipes include Ricotta with Broccoli Rabe, Brussels Sprouts with Bacon & Walnuts, Baby Leeks Braised in Red Wine, and Zucchini Caponata. With more than 50 stunning photographs and a bright and airy design, Eat Greens is as easy to read as it is to cook from. It includes useful tips on growing, buying, and storing each green vegetable.
About the Author
BARBARA SCOTT-GOODMAN is Diabetes Focus's award-winning contributor and the author or coauthor and designer of several cookbooks, including "The Garden Entertaining Cookbook" and "The Beach House Cookbook,"
KALIA DONER is Editor in "Chief of Diabetes Focus," the country's largest diabetes magazine, as well as Editor in Chief of the health magazine "Remedy," and author of more than twenty books on health and other topics. She lives in New York City.
Praise For Eat Greens…
Barbara Jacobs, Booklist 4/15/2011
"With the number of farmers' markets and true vegans increasing, it was simply a matter of time until cookbooks combined those two trends. Though Scott-Goodman and Trovato certainly aren't the first to exploit the goodness of greens (think The New Moosewood Cookbook, 2000, for one), both have enviable track records in producing top-quality culinary collections (e.g., The Ski Country Cookbook, 2008, and The Beach House Cookbook, 2005, for Scott-Goodman and Rachel Ray's Open House Cookbook, 2006, for Trovato.The bonus here? More than 120 simple recipes that don't require expensive equipment or unusual ingredients, except for fresh-from-the-garden artichokes to zucchini. Every veggie includes at least one recipe, along with notes about origins, best growing season, and nutrients. Among the choices: asparagus and mushroom frittata, green cabbage and apple bake, and dandelion greens with tzatziki and feta cheese. Don't expect too many proteins here, though egg dishes are popular. Instead, use this as a guide to easy-to-cook side dishes that quickly bring the best garden crops to table."

Kirkus, May 1, 2011
Healthy recipes for every taste bud.

Broccoli has never looked so appealing. With more than 120 simple, easy-to-prepare recipes, this cookbook makes it easy to eat green. The attractive design includes color photographs and boxed reference guides that show calorie and nutritional value. Novice gardeners will enjoy a few tips, and the authors urge those who can't grow their own to visit a farmers' market or local produce stand. The fresher the vegetable, the better these seasonal recipes will taste. Twenty-six green vegetables are presented in alphabetical order, from artichokes to zucchini, and each includes a background. Southern chefs will be happy to know that Smoky Collard Greens are included, as are recipes for dandelion greens, while chefs looking for new ideas will find Collard Greens and Parmesan-Roasted Fennel. Kids may hate vegetables, but veggie-laden pizzas and Macaroni and Cheese with Swiss Chard are clever ways to get them to eat their greens. The sheer variety of recipes and kitchen techniques the authors manage to pack into this slim and generously illustrated volume will stun readers—cooks can enjoy tantalizing soups, salads, sauces and pestos. Pasta lovers will find Creamy Linguine with Fresh Peas and Pancetta, and Roast Pork with Fennel or Pan-Seared Salmon with Braised Mixed Greens is a healthy way to tempt meat eaters.
Grab some cabbage and start cooking green today.
St Petersburg Times, 6/1/11
"For cooks who enjoy fresh vegetables. This cookbook provides excellent instruction in cooking and selecting a wide variety of vegetables."
BookPage Cookbook of the Month (June)
"You'll find intriguing ways to steam, sauté, stir-fry, braise, roast and blanch them, from elegantly simple dishes like Green Bean, Prosciutto, and Parmesan Salad and sublimely summery Sautéed Snap Peas, Sweet Corn….An informative intro sets the scene for each of the 29 greens, while good header notes help you pick a peck of delicious veggie dishes."
Winston-Salem Journal
, 10/5/11
" a collection of contemporary and sophisticated yet accessible recipes…The title is a bit misleading, and that's a good thing here. "
Eat Greens
" doesn't just cover such greens as spinach and collards. It covers 26 green vegetables of all types. In fact, such nongreen veggies as corn and sweet potatoes get only peripheral treatment instead of their own chapters…The nice thing about the book is that the authors keep things simple. The book has no wild or trendy flavor combinations, no hard-to-find or super expensive ingredients. And the recipes are pretty much all easy and straightforward enough for kitchen novices…In short, this book has plenty of ideas for people, especially nonvegetarians, wanting to add vegetables to their diet." 
Delicious Living Magazine
"All together now: Eat your vegetables! This book is the perfect, easy resource to make that goal a reality. It features nice, bright photos, easy-to-read recipes, and an alphabetical arrangement from Artichokes and Asparagus through Escarole and Watercress to Zucchini, plus a nutritional breakdown for each food."