Kiss Me Deadly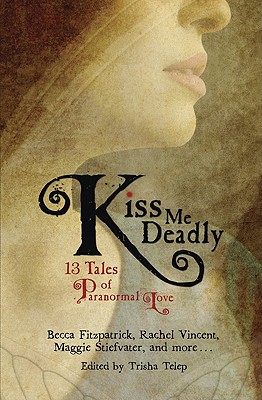 Kiss Me Deadly
13 Tales of Paranormal Love
Running Press Kids, Paperback, 9780762439492, 430pp.
Publication Date: August 3, 2010
* Individual store prices may vary.
Buy at Local Store
Enter your zip code below to purchase from an indie close to you.
or
Buy Here
Description
If you can possibly thirst for more mysterious metaphysical accounts of love, Trisha Telep has organized some of the greatest and most thrilling tales of paranormal paramours since The Eternal Kiss. She presents the acclaimed literary talent of thirteen unique authors, creating a collection of stories that will undoubtedly capture the imagination of every soul who dares to read them. Werewolves, ghosts, zombies, vampires, and fallen angels drive the plot of these riveting romances.
Kiss Me Deadly includes the exceptional writings of several authors, including:
Sarah Rees Brennan (faeries)
Becca Fitzpatrick (angels)
Caitlin Kittredge (witches)
Karen Mahoney (vampires: sequel to story from The Eternal Kiss)
Daniel Marks (ghost kids)
Justine Musk (sorcerers)
Diana Peterfreund (unicorns)
Michelle Rowen (demons)
Carrie Ryan (zombies)
Maggie Stiefvater (werewolves)
Rachel Vincent (banshees)
Daniel Waters (zombies)
Michelle Zink (gothic ghosts)
About the Author
New York Times bestselling author Rachel Vincent loves good chocolate, comfortable jeans, and serial commas. She s older than she looks and younger than she feels, but is convinced that for every day she spends writing, one more day will be added to her lifespan. Now absorbed in the dark, tangled loyalties of her UNBOUND world, as well as the travails of a teenage banshee in her SOUL SCREAMERS world, Rachel can be found online at www.rachelvincent.com or urbanfantasy.blogspot.com.
After a tumultuous past as a history major, calligraphy instructor, wedding musician, technical editor, and equestrian artist, Maggie Stiefvater is now a full-time writer and New York Times bestselling author of the Shiver trilogy, The Scorpio Races, and The Raven Boys. Her debut series, the Books of Faerie, is published by Flux. Maggie lives in the middle of nowhere, Virginia, with her charmingly straight-laced husband, two kids, four neurotic dogs, and a 1973 Camaro named Loki.
Follow her on Twitter at @mstiefvater, and visit her online at www.maggiestiefvater.com.
Becca Fitzpatrick is the author of "Black Ice", "Dangerous Lies", and the Hush, Hush saga, including "Hush, Hush"; "Crescendo"; "Silence"; and "Finale" all of which debuted as "New York Times "bestsellers. She graduated college with a degree in health, which she promptly abandoned for storytelling. When not writing, she s most likely running, prowling sales racks for shoes, or watching crime drams on TV. She lives in Colorado with her family. Find out more at BeccaFitzpatrick.com.
Praise For Kiss Me Deadly…
Monique, JPL Teen Space 8/11/10
"Pucker up for a darkly sweet collection of ghosts, shape shifters, fairies, unicorns, vampires, and demons in tales from today's biggest writers of the paranormal persuasion"
New York Journal of Books, 8/26/10
"It's a great pleasure to find works from such an array of writers gathered into one book. Telep has assembled stories that run the gamut from humorous to haunting, scary to thoughtful. Both teenage and adult fantasy readers will find plenty here to savor, while those new to the genre can be assured of a solid introduction to some of the best YA writers at work today."
Justine, Oct/Nov 2010
"Dangerous desire, deceptive lovers and heart-stopping romances are all found on the pages of this book."
The Bulletin of the Center for Children's Books
"Readers may be drawn to the swoon-worthy kissing factor, but they will also find significant depth, nuance, and vulnerability in these stories."