The Real Mad Men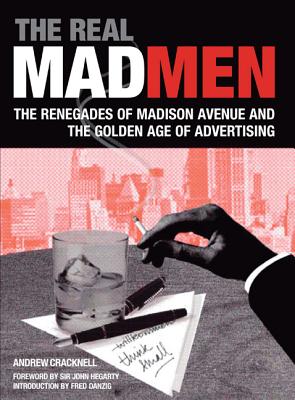 The Real Mad Men
The Renegades of Madison Avenue and the Golden Age of Advertising
Running Press Book Publishers, Hardcover, 9780762440900, 224pp.
Publication Date: February 28, 2012
* Individual store prices may vary.
Buy at Local Store
Enter your zip code below to purchase from an indie close to you.
or
Not Currently Available for Direct Purchase
Description
Advertising is a business rooted in art, an art rooted in business, and it reached its peak in a specific place at a specific time: New York City at the end of the 1950s and through the '60s.
AMC's award-winning drama Mad Men has garnered awards for its portrayal of advertising executives. This engaging, insightful narrative reveals, for the first time, the lives and work of the real advertising men and women of that era. Just as portrayed in the series, these creative people were the stars of the real Madison Avenue. Their innate eccentricity, vanity, and imagination meant their behavior and lifestyle was as candid and original as their advertising. They had it and they flaunted it. People like Bill Bernbach, George Lois, Ed McCabe, Mary Wells, Marion Harper, Julian Koenig, Steve Frankfurt, and Amil Gargano, and others, who in that small space, in that short time, created some of the most radical and influential advertising ever and sparked a revolution in the methods, practice, and execution of the business. Including over 100 full-color illustrations, the book details iconic campaigns such as VW, Avis, Alka Seltzer, Benson & Hedges, Polaroid, and Braniff Airways.
Praise For The Real Mad Men…
Publishers Weekly
"Cracknell's account of the heyday of advertising—currently being explored on AMC's hit show Mad Men--is a terrific supplement to the show, as well as a primer on the evolution of the industry…Advertising geeks will gobble this up, but even those completely unaware of Don Draper and Sterling Cooper will appreciate this lively and spirited account."
David Abbott
"Andrew Cracknell tells it like it was—the inside story of the men and women who kept Don Draper awake at night. Witty and invigorating."
Ken Roman, former chairman of Ogilvy & Mather Worldwide and author of The King of Madison Avenue: David Ogilvy and the Making of Modern Advertising
"Andrew Cracknell has accurately captured what many people called the Golden Age of Advertising—with its postwar milieau, strong personalities and creative philosophies—and pinned it to the wall like an exotic butterfly in a collection. Like the period, the book is fun."
Jerry Della Femina
"Andrew Cracknell has really nailed the "Mad Men" years. He tells the inside story of the advertising business as only someone who's been right in the middle of the ad business can. I enjoyed reading it, and I'm really looking forward to the day they make a movie out of it because there's a great movie here. I can only hope that George Clooney is around to play my part."
George Lois
"I lived through half of what Andrew Cracknell writes about—and there's so much action on each page, my head was spinning. The Real Mad Men nails those days in real time – but take a valium before you read it. It's an eye-popping, roller-coaster ride, and the true story of the original Mad Men. Reading any chapter in Cracknell's book beats the hell out of watching a dozen segments of Mad Men."
Amil Gargano, former CEO & Creative Director of Ally & Gargano
"In 1955, I tiptoed into advertising with apprehension and distrust of a business that appeared to rejoice in its triviality. In 2000, I left advertising without regret and an enormous sense of pride. In those 45 years, I saw it all.
Now, Andrew Cracknell, has captured the essence and true character of advertising's Creative Revolution with meticulous research, deep insight, and revealing interviews with the serious and outrageous real Mad Men and Women of that radical era in this brilliant new book."
Josh Raymond, (London) Times Literary Supplement
"As befits an ad man's output, Cracknell's book is a sensuous beast. It exudes gloss, and the dense full-color pages curate classic advertisements and photographs of industry players, all large and juxtaposed attractively with the text…much like a good advertisement, the book successfully informs, entertains and pleases the eye."