Food in Jars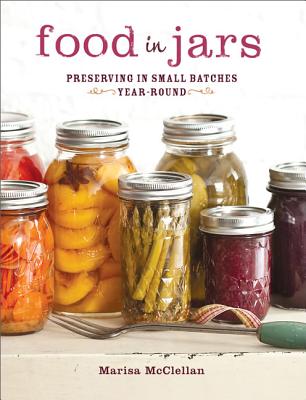 Food in Jars
Preserving in Small Batches Year-Round
Running Press Book Publishers, Hardcover, 9780762441433, 237pp.
Publication Date: May 22, 2012
* Individual store prices may vary.
Buy at Local Store
Enter your zip code below to purchase from an indie close to you.
or
Buy Here
Description
Popular food blogger Marisa McClellan takes you through all manner of food in jars, storing away the tastes of all seasons for later. Basics like jams and jellies are accompanied by pickles, chutneys, conserves, whole fruit, tomato sauces, salsas, marmalades, nut butters, seasonings, and more. Small batches make them easy projects for a canning novice to tackle, and the flavors of vanilla bean, sage, and pepper will keep more experienced jammers coming back for more.Sample some Apricot Jam and Rhubarb Syrup in the spring, and then try your hand at Blueberry Butter and Peach Salsa in the summer; Dilly Beans and Spicy Pickled Cauliflower ring in the fall, while Three-Citrus Marmalade and Cranberry Ketchup are the harbingers of winter.
Stories of wild blackberry jam and California Meyer lemon marmalade from McClellan's childhood make for a read as pleasurable as it is delicious; her home-canned food learned from generations of the original foodies feeds the soul as well as the body in more than 100 recipes.
About the Author
Marisa McClellan is a former writer and editor for Slashfood, and has a master s degree in writing from St. Joseph s University. These days, she writes about canning, pickling, and preserving at Food in Jars (twice nominated by Saveur magazine for a Best Food Blog award). She lives in Philadelphia with her husband. Visit her at www.foodinjars.com"
Praise For Food in Jars…
Library Journal
"Everything about this book, from the attractive design chock-full of enticing pictures to the ingredients, demystifies the canning process and alleviates associated fears….VERDICT: This is an excellent introduction to preserving. The author keeps things simple by using accessible ingredients and small batches."

Washington Post
"McClellan's voice is friendly and reassuring; the batches are manageable. True to its name, this recipe collection covers territory beyond the ping of a sealed lid, such as salts, syrups, granolas, stocks and butters."

Relish!
"When there's too much of a good thing…that's the time to can just a couple of jars of something wonderful with a recipe from Food in Jars."  

Seattle Times
"I'm delighted that McClellan's Food in Jars blog is now a book… [it's] not restricted to jams and pickles; it's also got everything from nut butters to salsas."  
Sante

"A 'must have' for any amateur or professional chef serious about gardening, farm-to-table, organic, and going green."
Bookslut
"
Food in Jars
 contains a terrific introductory section, complete with photos, that will get you set up correctly and safely with hot water bath canning, the most basic canning process. And since her focus is on putting up small batches, it's a good way to dip your toe in without having to worry about finding yourself overwhelmed by 100 pounds of tomatoes." 
Saveur
"We've long been fans of Marisa McClellan's blog Food in Jars, a two-time Best Food Blog Awards finalist dedicated to the joyful packing of anything and everything into lidded glass vessels: jams, pickles, salsas, chutneys, syrups. With her cookbook, the experience is even better: rich personal stories, useful tips for canning and storing, and smartly written, eminently approachable small-batch recipes leave us hard-pressed to find so much as a single fruit, vegetable, or herb that doesn't work beautifully in a jar."