Suri's Burn Book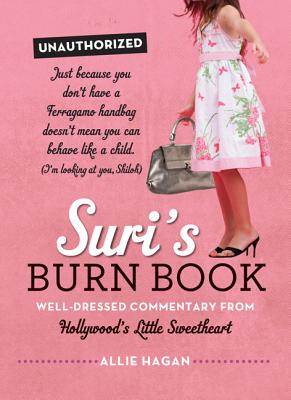 Suri's Burn Book
Well-Dressed Commentary from Hollywood's Little Sweetheart
Running Press Book Publishers, Hardcover, 9780762447350, 127pp.
Publication Date: September 4, 2012
* Individual store prices may vary.
Buy Now
or
Shop Local
Enter your zip code below to purchase from an indie close to you.
Description
Based on the blog, this clever book of snarky commentary is told from the imagined world of "Suri Cruise."
Praise For Suri's Burn Book…
"Suri's Burn Book takes so many of our favorite things—Mean Girls attitude, celebrities, and snarkiness—and rolls it all into one amazing Tumblr."
—Time

"'Suri Cruise' is our new favourite blogger."
—The Guardian UK

"If you haven't already, I implore you to head over to Suri's Burn Book, a Tumblr account that answers the question, 'What would Suri Cruise think about this outfit?' Here, you find biting comments about Hollywood's more unfortunate offspring, as imagined from the perspective of Cruise herself."
—SocialiteLife.com

"I feel like every day I become obsessed with a new Tumblr, and today it's Suri's Burn Book."
—Crushable.com

"In a world where every other person (alright, 5 per cent of people) puts their child on Facebook and Hollywood's baby pictures fetch upwards of seven digits...we're thankful it's come in the form of Suri's Burn Book, a brilliant Tumblr account written from the perspective of Suri Cruise, complete with all the inside jokes and less than thinly veiled insults one could hope for from this queen of the toddler set."
—The Huffington Post Canada "Suri's Burn Book takes so many of our favorite things—Mean Girls attitude, celebrities, and snarkiness—and rolls it all into one amazing Tumblr."
—Time
"Suri Cruise is our new favourite blogger."
—The Guardian UK
"If you haven't already, I implore you to head over to Suri's Burn Book, a Tumblr account that answers the question, 'What would Suri Cruise think about this outfit?' Here, you find biting comments about Hollywood's more unfortunate offspring, as imagined from the perspective of Cruise herself."
—SocialiteLife.com
"I feel like every day I become obsessed with a new Tumblr, and today it's Suri's Burn Book."
—Crushable.com
"Suri's Burn Book: Well-Dressed Commentary From Hollywood's Little Sweetheart, much like the blog itself, is filled with sarcastic well-to-do life instructions with humorous celebrity style anecdotes."
—The Daily Mail