You Are a Badass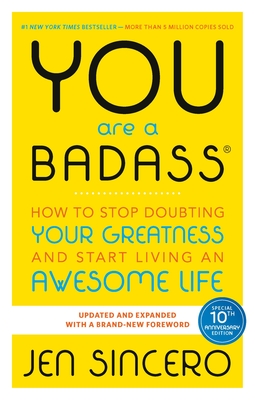 You Are a Badass
How to Stop Doubting Your Greatness and Start Living an Awesome Life
Running Press Book Publishers, Paperback, 9780762447695, 254pp.
Publication Date: April 23, 2013
* Individual store prices may vary.
Buy Now
or
Shop Local
Enter your zip code below to purchase from an indie close to you.
Description
YOU ARE A BADASS IS THE SELF-HELP BOOK FOR PEOPLE WHO DESPERATELY WANT TO IMPROVE THEIR LIVES BUT DON T WANT TO GET BUSTED DOING IT.

In this refreshingly entertaining how-to guide, bestselling author and world-traveling success coach, Jen Sincero, serves up 27 bitesized chapters full of hilariously inspiring stories, sage advice, easy exercises, and the occasional swear word, helping you to: Identify and change the self-sabotaging beliefs and behaviors that stop you from getting what you want, Create a life you totally love. And create it NOW, Make some damn money already. The kind you ve never made before.

By the end of "You Are a Badass," you ll understand why you are how you are, how to love what you can t change, how to change what you don t love, and how to use The Force to kick some serious ass.

About the Author
Jen Sincero is a musician, comedienne, and the author of the novel "Don't Sleep with Your Drummer." At the moment she lives in California and can be found on the web at www.jensincero.com.