Maximum Climbing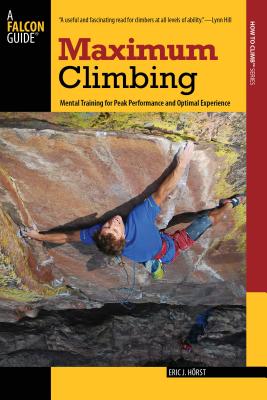 Maximum Climbing
Mental Training for Peak Performance and Optimal Experience
Falcon Press Publishing, Paperback, 9780762755325, 270pp.
Publication Date: April 23, 2010
* Individual store prices may vary.
Buy Now
or
Shop Local
Enter your zip code below to purchase from an indie close to you.
Description
The definitive resource to brain-training for climbing by an internationally recognized expert As physical as climbing is, it is even more mental. Ultimately, people climb with their minds hands and feet are merely extensions of their thoughts and will. Becoming a master climber requires that you first master your mind. In Maximum Climbing, America's best-selling author on climbing performance presents a climber's guide to the software of the brain one that will prove invaluable whether one's preference is bouldering, sport climbing, traditional climbing, alpine climbing, or mountaineering. Eric Horst brings unprecedented clarity to the many cognitive and neurophysical aspects of climbing and dovetails this information into a complete program, setting forth three stages of mental training that correspond to beginner, intermediate, and elite levels of experience and commitment the ideal template to build upon to personalize one's goals through years of climbing to come.
About the Author
Eric Horst has been climbing for thirty years. He is a performance coach who has helped thousands of climbers improve their performance through his books, magazine articles, seminars, and Web sites. He is the author of "Rock Climbing Virginia, West Virginia, and Maryland;" "Training for Climbing 1st ed;" "How to Climb 5.12;" "Learning to Climb Indoors;" and "Conditioning for Climbers," He lives with his wife Lisa Ann and their two sons, Cameron and Jonathan, in Lancaster, Pennsylvania.


Richard Fleming is a teacher of philosophy and humanities. He has received numerous teaching-excellence awards. Recent teaching-seminars include: "Reading the "Philosophical Investigations"-Remark by Remark," Duke University, 2008-2009; "Cage: Experimentation, Chance, Silence, Anarchism," Fusion Art Exchange, New York, 2007-2008. His writings on ordinary language philosophy include: "The State of Philosophy" (1993) and "First Word Philosophy" (2004).
Praise For Maximum Climbing…
"There are volumes of books on how to train your body for climbing, but Maximum Climbing teaches you how to climb better by flexing the most critical musclethe three pound one between your ears. Using a highly detailed step-by-step process that is clearly presented for beginner to expert climbers, Eric Hörst instructs on mental training. His book runs that gamut from A to Z, but my favorites include how to manage fear, build confidence, and focusthree areas all of us need to work on by, until now, didn't even know where to begin."Duane Raleigh, Publisher/Editor-in-Chief Rock and Ice
For anyone interested in learning more about how the mind works and how important psychological factors are in determining the quality of our experience and performance, Maximum Climbing is a useful and fascinating read. In this powerful text, Hörst presents an impressive collection of mental training techniques, practice exercises, and insights for climbers at all levels of ability."Lynn Hill, first woman to climb 5.14
Eric Hörst's Maximum Climbing fills a deep need for a training book that explores the broad array of elements that make a climber, fully integrating the physical, technical, mental, and spiritual. This is a book as much about the soul as grit, as inspiring as it is educational."Susan E. B. Schwartz, author of Into the Unknown: The Remarkable Life of Hans Kraus
Eric Hörst's new book Maximum Climbing, provides climbers with a clear path to athletic mastery. As a climber and performance coach, I've sought out every piece of information I could find on improving athletic performance. Use the methods put forth in this book, and you will improve; not just as a climber, but as a human being."Steve Bechtel, CSCC, Elemental Training Center
Dissolving the illusion of mind/body separation, Eric Hörst's Maximum Climbing shows the way to achieve what I like to call one's Vertical Path: a completely holistic state of being in which the spiritthe essence of climbingis woven into the tapestries of our lives."John Gill, legendary boulderer and master of rock