Stone of Kings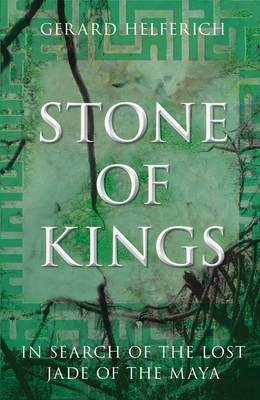 Stone of Kings
In Search of the Lost Jade of the Maya
Lyons Press, Hardcover, 9780762763511, 287pp.
Publication Date: December 6, 2011
* Individual store prices may vary.
Buy at Local Store
Enter your zip code below to purchase from an indie close to you.
or
Not Currently Available for Direct Purchase
Description
A book perfectly timed for the re-setting of the Maya calendar in 2012.... Part history, popular science, armchair travel, and real-life treasure hunt, this is the story of pre-Columbian jade the precious stone revered by ancient Aztecs, Incans, and Maya
About the Author
Gerard Helferich is the author of the widely praised Humboldt's Cosmos, which was a Discover magazine Science Bestseller; and High Cotton, which received the 2008 Authors Award for nonfiction from the Mississippi Library Association.
Praise For Stone of Kings…
"A compelling tale.... This well-focused and well-told account brings America's most mythologized gemstone into sharp relief."
           —Wall Street Journal
"[A] great pre-Columbian civilization takes center stage in Gerard Helferich's Stone of Kings . . . the story of the search for the long-vanished mines of the Mayas and their predecessors, the Olmecs . . . [with] engaging digressions into plate tectonics, the technology of jade carving and the brutal history of the regimes of a succession of Guatemalan generals. . . . [Prospectors] Ridinger and Johnson endured earthquakes, coups, kidnapping, even civil war. But eventually they stumbled upon huge blocks of the alluring, elusive stone."
          —New York Times Book Review
"This is an absorbing and exciting story about a stone that ancient Mesoamericans prized above gold. The search for the sources of this mysterious rock reads like detective fiction, and involves geologists, archaeologists, entrepreneurs, poachers, and a host of other characters, but it's all true.  A wonderful read!"
—Michael D. Coe, author of Breaking the Maya Code  
"While others were anticipating the dubious 2012 Long Count apocalypse, Gerard Helferich was chasing an answer to a much more interesting Maya mystery—where had the legendary Maya jade come from? Stone of Kings is a rare creature in the world of adventure literature: equal parts fascinating travelogue, rich history, and good old-fashioned detective story."
—Mark Adams, author of Turn Right at Machu Picchu
"Stone of Kings is a well-written and fascinating book that tells the full story of Mesoamerican jade. In today's world jade is a highly prized gemstone, but for the ancient Maya and other pre-Columbian Mesoamerica civilizations, jade was the most precious and powerful substance in the universe. Against the backdrop of the rise and fall of these civilizations, and a history of conquest, revolution, and civil war, Gerard Helferich describes how archaeologists, geologists, adventurers, and entrepreneurs rediscovered the long lost source of Mesoamerican jade. He also tells us how this discovery led to the rebirth of the art of jade carving in Guatemala, the original homeland of both jade and the Maya people."  
—Robert Sharer, author of The Ancient Maya

"In Stone of Kings, Gerard Helferich finally demystifies jade in the Americas. From the other-earthly blues of Olmec times to the apple-green translucent jades of the Classic Maya, this book is a gripping travelogue through time and the mysterious backcountry of Guatemala, where fabulous discoveries of this most exotic and highly treasured stone of the New World have recently been made."
—David W. Sedat, Founding Director, The Copan 2012 Botanical Research
Station
"This is a delightful and exciting book. It has a perfect mix of science and adventure, plus a fascinating cast of real characters, the jade hunters themselves. Recommended to anyone who likes tales of archaeology mixed with adventure—and vice versa!"
—Arthur Demarest, author of Ancient Maya: The Rise and Fall of a Rainforest
Civilization
"Synthesizing the works of geologists, archaeologists, anthropologists, and historians, this book is a highly readable and fascinating description of the search for jade in Mesoamérica from ancient times to the present. Helferich intertwines this story skillfully with the political and economic history of Guatemala and with the crucial role that entrepreneurs Jay and Mary Lou Ridinger of Antigua Guatemala played in this process."
—Ralph Lee Woodward, author of A Short History of Guatemala

"An engrossing read that should be enjoyed by the general public and scholars alike."
—Jeremy A. Sabloff, President, Santa Fe Institute 
"Fusion of geological treatise and adventure yarn, exploring the mysteries of Central American jade…. Helferich delivers a lively narrative…. Engaging cross-cultural tale of ancient peoples and modern desires." —Kirkus Reviews
Praise for the author's previous book, Humboldt's Cosmos
 "A thrilling tale of adventure travel." —
Los Angeles Times
"A great read." —New Republic Online
"A lush and engaging biographical adventure tale."—Publishers Weekly
"A magical journey back in time." —Jackson Free Press