Crazy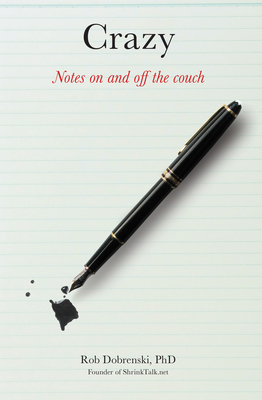 Crazy
Notes on and Off the Couch
Lyons Press, Hardcover, 9780762764839, 201pp.
Publication Date: June 14, 2011
* Individual store prices may vary.
Buy at Local Store
Enter your zip code below to purchase from an indie close to you.
or
Not Currently Available for Direct Purchase
Description
Crazy is the story of how one mental health professional deals with his own personal problems and those of the people he treats. Part expose and part memoir, it reveals what therapists really think about their profession, their colleagues, their patients,
About the Author
Rob Dobrenski, PhD, is a licensed psychologist whose work has been published in The Best of Creative Nonfiction, Vol. 2. Visit him at ShrinkTalk.net.
Praise For Crazy…
"The life, times, and thoughts of a New York therapist are put on display in a candid account of what goes on behind the doctor's door—and in his head—during a day filled with patients and self-doubt. Tackling serious mental-health subjects without being overly reverent, shrinktalk.net blogger Dobrenski maintains a snappy pace. Patients are not spared his keen observations, which help to answer the vexing question: Am I paranoid, or does my shrink think I'm crazy—and sloppy? . . . But Dobrenski also puts himself under the microscope. . . . Clean, honest writing makes for an engaging read." —Kirkus Reviews
 "Most people who get into psychology as a profession do it because they're crazy, and it's their way of healing themselves. The problem is, they never admit this fact to themselves or to anyone else. Dr. Rob does what very few psychologists ever do: He looks at himself with the same eye for analysis that he uses for his patients." --Tucker Max, author of
I Hope They Serve Beer in Hell
"It takes a truckload of guts to write a book this honest about one's profession. To pen one as funny and insightful as Crazy is, simply, amazing. You'll never view therapy in the same light again." --The Philadelphia Lawyer, author of Happy Hour Is for Amateurs
"If you ever wondered what your shrink was like out of office hours, then this is the book for you. A fascinating, thought-provoking and at times hilarious, read." --Robin Baker, author of Sperm Wars and Primal
"Fun for anyone who's wondered what it's like to make a living by listening to other people's troubles all day." - Library Journal
"A refreshing memoir...a solid step in the right direction of reminding patients that treatment can be a two-way street."  - Shelf Awareness