The Big Juice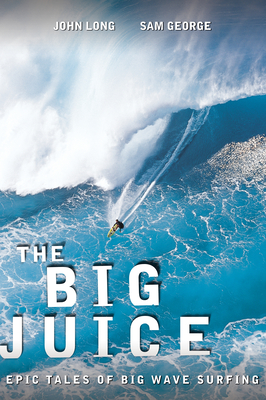 The Big Juice
Epic Tales of Big Wave Surfing
FalconGuide, Paperback, 9780762769933, 301pp.
Publication Date: November 8, 2011
* Individual store prices may vary.
Buy Now
or
Shop Local
Enter your zip code below to purchase from an indie close to you.
Description
The best and newest big-wave surfing stories from the sport's insiders More than a decade ago, John Long published his now classic The Big Drop, an unprecedented look at the larger-than-life frontier of big wave surfing. Since then, the sport has exploded in popularity. The big wave bar keeps rising as extreme surfers continue to seek out, surf, and survive a ride on the elusive 100-foot wave. The incredible stories of a new generation of thrill-seeking, death-defying surfers and stunning, full-color photography of monster waves fill the pages of this new collection by John Long and former surfing pro Sam George.A powerful, contemporary look at the men and women who live and breathe for the next big wave and the bigger, more dangerous challenge, The Big Juice presents a rich history of characters, controversies, heroism, humor, and tragedy that define the sport. With contributions from: - Ben Marcus, author of The Surfing Handbook and The Art of Stand Up Paddling- Chris Dixon, writer, Surfer magazine- Kimball Taylor, writer, ESPN- Bruce Jenkins, author of North Shore Chronicles; writer, Sports Illustrated- Drew Kampion, former editor of Surfer, Surfing, Wind Surf, and Wind Tracks magazines; author of The Book of Waves: Form and Beauty on the Ocean- James Hollmer-Cross, writer, Surfing magazine . . . and big-wave surfers: - Laird Hamilton- Dave Kalama- Evan Slater- Shane Dorian- Greg Noll- and mo.
About the Author
After he graduated college with a degree in fine arts, John Long became a fireman because he couldn't find work as an art teacher. Having spent 15 years on the fire squad, he now devotes all his time to his art, and to his nationally syndicated cartoon, Lumpy Gravy. When he's not in the studio, he is exhibiting at art fairs around the country. On the rare occasions when he takes a vacation, John and his wife Janet travel to New York City to catch up on museums, galleries, and big city energy. John and Janet divide their time between Ann Arbor, Michigan and a mobile home park in Florida.


Praise For The Big Juice…
"Big Juice is a must read for anyone who wants to experience the extreme passion and ultimate terror of riding the world's biggest waves."
      --Ricky Grigg, former world surfing champion and big wave pioneer
"Punctuated by absolutely stunning photography of these monstrous waves—and the intrepid souls who embrace the challenge of taming them—this is a glimpse into a totally alien world, and the incredible force nature brings to bear. It's a celebration, a warning, a tribute, a memorial, and a historical document all at once."
     --Sacramento Book Review
"A solid collection of big wave anecdotes, [including] an unvarnished, adrenaline-packed narrative from hellman Shane Dorian, recounting one of the most traumatic beatings he ever took while surfing.... Solid, blending surfing entertainment with the simple power of stories about massive swells.... For surfers who enjoy books in the 'talking story' genre, you won't be disappointed by The Big Juice." 
     --TheWatermansLibrary.com