The Devil's Rooming House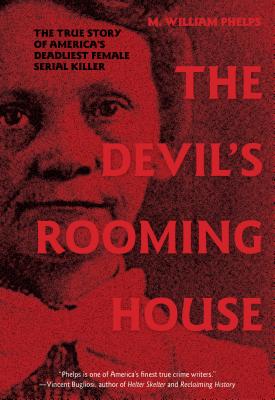 The Devil's Rooming House
The True Story of America's Deadliest Female Serial Killer
Lyons Press, Paperback, 9780762770250, 303pp.
Publication Date: June 1, 2011
* Individual store prices may vary.
Buy at Local Store
Enter your zip code below to purchase from an indie close to you.
or
Buy Here
Description
A silent, simmering killer terrorized New England in 1911. A heat wave unlike any that had come before killed people in the streets, caused others to drown in the waters where they sought relief, and drove still others to suicide. As more than 2,000 people died during the natural disaster, another silent killer began her own murderous spree. Amy Archer-Gilligan operated the Archer Home for Elderly People and Chronic Invalids in Windsor, Connecticut. What was thought to be a respectable business run by a pioneering woman was exposed as little more than a murder factory. Amy would be accused of murdering both her husbands and dozens (as many as sixty) of her elderly patients with cocktails of lemonade and arsenic all for money. She would be convicted and sentenced to hang, and her story would shock turn-of-the-century America and provide the inspiration for the Broadway sensation and classic film Arsenic and Old Lace. Acclaimed crime writer and New York Times bestselling author M. William Phelps has written the first book to tell the true story of greed and murder even more shocking than its fictional counterpart.Readers will enter a kind of Twilight Zone where a Bible-thumping caretaker and entrepreneur of the nursing home industry became one of history's most evil female serial killers. With first-hand accounts from Amy's "inmates," riveting trial transcripts, and accounts from the investigative journalists who covered the case, Phelps puts readers face-to-face with a woman who was both a Black Widow and an Angel of Death. And Phelps paints a vivid, spine-chilling portrait of turn-of-the-century New England.This is historical true crime at its best.
About the Author
Investigative journalist M. William Phelps is the author of I ll Be Watching You, If Looks Could Kill, Because You Loved Me, Murder in the Heartland, Perfect Poison, Lethal Guardian, Every Move You Make, and Sleep in Heavenly Peace. He has appeared on dozens of national radio and television programs, including Good Morning America, Court TV, The Discovery Channel, Geraldo at Large, and Montel Williams, and has consulted for the Showtime cable television series Dexter. He lives in a small Connecticut farming community with his wife and children.
Praise For The Devil's Rooming House…
"Amy Archer-Gilligan—Sister Amy, she was called—was a murderess well-enough known to be cited as an inspiration for Joseph Kesselring's perennial grim farce, Arsenic and Old Lace…. Amy's sensational trial attracted great interest, and Phelps wraps the whole dirty business in a delightfully cozy narrative. A genteel true-crime excursion." — Mike Tribby, Booklist
"Lizzie Bordon became famous for probably murdering her stepmother and father in turn-of-the-century New England. But a lesser known contemporary, Amy Archer-Gilligan, is much more interesting. Amy dispatched two husbands and possibly as many as 66 others in a fashion reminiscent of 'Arsenic and Old Lace,' a Broadway play that was loosely based on her case…. In his new book, M. William Phelps, tells the shocking, true story of this Victorian murderess in fascinating detail…. Mr. Phelps — who Radio America calls 'the nation's leading authority on the mind of the female murderer' — conducted extensive interviews and sifted through official trial transcripts and newspaper files to bring readers face-to-face with the matron of what the media of the day billed as a 'murder factory.' —Larry Cox / Special to Florida Weekly
"To recreate the early 20th century killing spree which took place primarily in Connecticut's "Archer Home for Elderly People and Chronic Invalids" (the inspiration for Joseph Kesselring's play Arsenic and Old Lace), Phelps amasses an abundance of research to complement his already-extant authority on female murderers (the author of Perfect Poison: A Female Serial Killer's Deadly Medicine, Phelps has also consulted on serial killer TV drama Dexter).... Phelps' diligent research creates a vivid portrait of the country a century ago…. —Publishers Weekly
"On May 9, 1916, Hartford Courant readers learned that the Archer Home for Elderly People and Chronic Invalids in Windsor, Conn., run by a woman many considered saintly, had produced an unusual number of corpses. Sixty-six people had died over eight years, during which Mrs. Archer-Gilligan had purchased large quantities of arsenic for her rodent problem. Several "inmates," as she called them, had paid her $1,000 for lifetime care. Some had signed over all their savings before vacating their beds, which were eagerly sought by new applicants…. M. William Phelps reports on an expanding cast of characters and unfolds his sensational history like a Victorian storyteller to entertain as much as to inform…. Phelps gives us the full panorama of a unique time and place in history." —Anne Grant / Special to the Providence Journal

Praise for M. William Phelps and The Devil's Rooming House Phelps is one of America's finest true crime writers."           Vincent Bugliosi, author of Helter Skelter and Reclaiming History 
The Devil's Rooming House was certainly a revelation. I had no idea that there was such a gruesome backstory to one of my favorite films, Arsenic and Old Lace, and after reading this exhaustively researched book, I can now say I know every lurid detail. I think readers will be surprised to find that another WOMAN has joined the infamous ranks of serial killers and that if the heat doesn't get you, the poison will."
Paula Uruburu, author of American Eve: Evelyn Nesbit, Stanford White, The Birth of the It" Girl, and The Crime of the Century
This harrowing account of how one seemingly dedicated and devoted caretaker of the old and infirm can emerge from her cocoon of Christian piety and prove to be an obscene force of destruction is written with the usual clarity and style of renowned crime writer, M.William Phelps.  The Devil's Rooming House not only depicts the shocking persona of the serial killer, Amy Archer, but also tenderly gives voice to her heroic, doomed victims."
Mary-Ann Tirone Smith, author of Girls of Tender Age: A Memoir