The Lion and the Journalist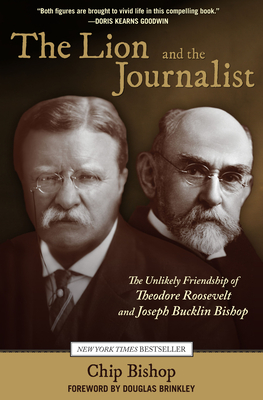 The Lion and the Journalist
The Unlikely Friendship of Theodore Roosevelt and Joseph Bucklin Bishop
Lyons Press, Hardcover, 9780762777549, 320pp.
Publication Date: November 8, 2011
* Individual store prices may vary.
Buy at Local Store
Enter your zip code below to purchase from an indie close to you.
or
Not Currently Available for Direct Purchase
Description
A New York Times Bestseller Theodore Roosevelt, accidental president, and Joseph Bishop, newspaper editor, met when the future Rough Rider was police commissioner of New York City. This isthe remarkable story of mutual loyalty and dedication that rang.
About the Author
Chip Bishop is an accomplished writer and speaker whose new book, Quentin and Flora, is winning wide acclaim. His debut book, The Lion and the Journalist - The Unlikely Friendship of Theodore Roosevelt and Joseph Bucklin Bishop - was a New York Times e-book bestseller in March 2014. It has been hailed by historians, reviewers and readers alike. Chip grew up in Woonsocket, RI and was graduated from Boston University. His lifetime of achievements include time as a campaign and administration aide to President Jimmy Carter, Capitol Hill lobbyist, entrepreneur, elected official, and youthful disc-jockey during the fabled British Invasion. Chip is a board member of the Biographers International Organization, a member of the Theodore Roosevelt Association and the executive committee of its New England chapter. The author lives on Cape Cod with his wife, Jane Nichols Bishop, and their two black rescue cats. He is the great-grand nephew of Joseph Bucklin Bishop, Theodore Roosevelt's authorized biographer, who was profiled in his first book. See www.ChipBishop.com. Like his books on Facebook, and follow Quentin and Flora on Twitter.

Douglas Brinkley is a professor of history at Rice University, the CNN Presidential Historian, and a contributing editor at Vanity Fair and Audubon. The Chicago Tribune has dubbed him America s new past master. His recent Cronkite won the Sperber Prize for Best Book in Journalism and was a Washington Post Notable Book of the Year. The Great Deluge won the Robert F. Kennedy Book Award. He is a member of the Society of American Historians and the Council on Foreign Relations. He lives in Austin, Texas, with his wife and three children.
Praise For The Lion and the Journalist…
"An 'unlikely friendship' has produced an unlikely volume, but one that should be most welcome on anyone's history shelf. … Read the book with an open mind. It's a welcome change from dry biography as you ponder the issue of cronyism vs. patriotism." —Providence Sunday Journal
"An entertaining dual biography … Genius … If you're a T.R. fan, you'll find much to enjoy in these pages. Bishop has a gift for scene-setting and clear narratives that moves his principals along smartly. … The author's meticulous research and vivid writing make The Lion and the Journalist a worthy addition to the big-shelf of books on America's Progressive Era." —Barnstable Patriot
"A revealing look at the relationship between two very different personalities joined by common belief and shared savviness about how the world works. … Bishop has put a real face on the Roosevelt popular caricature, and he has described, through the words of his forebear, the national life that we were living when America was deciding what it would grow up to be." —Martha's Vineyard Times
"An engaging tour of the busy intersection where history, politics, journalism, and power converge." —Kirkus Reviews
"Bishop taps the enduring interest about TR and his associates. … Active TR collections will cheer Bishop's addition to them." —Booklist
"A long time coming but well worth the wait, this book elucidates the relationship between a president and a journalist that had important repercussions for both."
—Tweed Roosevelt, great-grandson of Theodore Roosevelt and president of the Theodore Roosevelt Association
"An invaluable contribution to our understanding of Theodore Roosevelt. By chronicling the fascinating friendship between T. R. and journalist Joseph Bucklin Bishop, Chip Bishop identifies one of the central keys to T. R.'s success: his unparalleled ability to forge warm relationships with the members of the press even when they challenged and criticized him. Both figures are brought to vivid life in this compelling book."
—Doris Kearns Goodwin, Pulitzer Prize–winning author and presidential historian
"Who Roosevelt's first authorized biographer was and how he became such a close personal friend to the president are aspects of T. R.'s life that have never been chronicled, and it is a blessing that Chip Bishop has stepped up to fill that gap in our knowledge. The fresh material he has unearthed about Joseph Bucklin Bishop's life and the delightful way he has used it to portray President Roosevelt's relationship with the American press across his lifetime, in particular with his chosen Boswell, may make many a politician, even presidents, long to recover that past age. Fascinating!"
—Nigel Hamilton, author of American Caesars: Lives of the Presidents from Franklin D. Roosevelt to George W. Bush
"Just when we thought there was nothing new to learn about Theodore Roosevelt, comes Chip Bishop's
The Lion and the Journalist,
which lifts the curtain on a behind-the-scenes friendship between the iconic president and a prototypical nineteenth century journalist. Here we learn close-up how America's first media savvy president used the press to his advantage, setting the pattern for all presidents to come. Based on an astounding cache of letters and documents, Bishop's book will find a deserved place on the Theodore Roosevelt shelf."
—James McGrath Morris, author of
Pulitzer: A Life in Politics, Print, and Power