Finding Happiness in Simplicity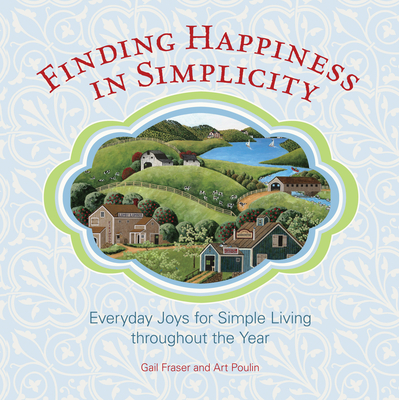 Finding Happiness in Simplicity
Everyday Joys for Simple Living Throughout the Year
Lyons Press, Hardcover, 9780762779239, 110pp.
Publication Date: March 6, 2012
* Individual store prices may vary.
Buy Now
or
Shop Local
Enter your zip code below to purchase from an indie close to you.
Description
Gail Fraser and her artist-husband Art Poulin believe that they have found a way to maneuver around the potholes of life by living simply and purposefully. They have been fortunate to enjoy a life of elegant simplicity on their 40-acre gentleman's farm and artist retreat in upstate New York where they can create their art. This book opens a window into their world of tranquility a stark contrast to today's times, a kind of visual chicken soup for the soul. Combining Art's landscape paintings and Gail's thoughtful words, Finding Happiness in Simplicity provides a charming but deeply compelling message that there are everyday joys to be realized and that these small things can bring us closer to a more fulfilling life. The recommended joys of simple living are grouped by season and include: Plant Seeds in the Earth, Know Where Your Home Is, Be Joyful with Animals, Honor Friends and Family, Lose Yourself in a Small Town, and more.
About the Author
Gail Fraser had a successful career in corporate America in several Fortune 500 and start-up corporations. She now lives the "Lumby Life" with her husband, Art Poulin, the illustrator for the series, and their many animals in upstate New York.


Praise For Finding Happiness in Simplicity…
Praise for the author's previous books:
"What Garrison Keillor did for Lake Wobegon, Fraser has done for Lumby." --Jill Wing, The Saratogian
Praise for The Lumby Lines:
 "At a time when we seem to be taking ourselves all too seriously Gail Fraser pulls a rabbit out of the hat that charms while it helps us relax. The Lumby Lines strikes just the right balance of playfulness, satire, and drama. A thoroughly enjoyable read." --- Brother Christopher, The Monks of New Skete
"There's a quality to the writing that lends an unrushed, meandering feel to the narrative as evildoers are dispatched and equilibrium is restored. Fraser's story is pleasantly easy reading and as small town cozy as they come." --- Publishers Weekly
Praise for Lumby on the Air:
"Gail Fraser's Mitford-esque settings and engaging characters will charm readers of all ages. . . . Pack this thoroughly enjoyable novel in your beach bag this summer -- you won't want to miss this amusing adventure!" --- ChristianBookPreviews
Praise for All Roads Lead to Lumby:
"You will be amazed by the great imagination of the author…The reader is in for a treat. This book is a delight to read and one that you will thoroughly enjoy." --- Bestsellersworld.com
"In the tradition of Jan Karon's Mitford series, this engaging inside look at small-town life will draw a bevy of fans to its old-fashioned story combining a bit of romance, a bit of mystery, and a multitude of quirky and endearing characters." --- Booklist