You Saved Me, Too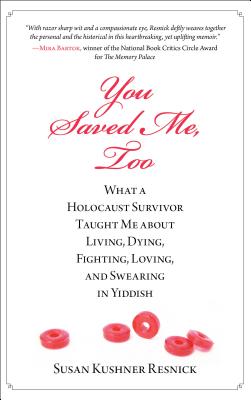 You Saved Me, Too
What a Holocaust Survivor Taught Me about Living, Dying, Fighting, Loving, and Swearing in Yiddish
Skirt!, Hardcover, 9780762780389, 229pp.
Publication Date: October 2, 2012
* Individual store prices may vary.
Not Currently Available for Direct Purchase
or
Shop Local
Enter your zip code below to purchase from an indie close to you.
Description
Aron Lieb approached Sue Resnick at a Jewish Community Center fifteen years ago, and found a companion and soul mate who was steadfastly by his side for the rest of his life. You Saved Me, Too is the incredible story of how two people shared the hidden parts of themselves and created a bond that was complicated, challenging, but ultimately invaluable. Sue was first attracted to Aron's warmth and wit, such a contrast to his tragic past and her recent battle with postpartum depression. Soon she would be dealing with his mental illness, fighting the mainstream Jewish community for help with his care, and questioning her faith. The dramatic tension builds when Sue promises not to let Aron die alone. This book chronicles their remarkable friendship, which began with weekly coffee dates and flourished into much more. With beautiful prose, it alternates between his history, their developing friendship, and a current health crisis that may force them to part.
About the Author
Susan Kushner Resnick worked as a reporter for various weekly and daily newspapers before becoming a freelance writer. Her work has appeared in the "Hers" column of T"he New York Times Magazine" and in "Natural Health "and other periodicals.

Praise For You Saved Me, Too…
"You Saved Me, Too is a soulful story about two unlikely companions—a young mother and an elderly Holocaust survivor—and their complicated, hilarious, and extraordinary friendship. With razor sharp wit and a compassionate eye, Resnick deftly weaves together the personal and the historical in this heartbreaking, yet uplifting memoir. This book reminded me of why we are here—to help ease the suffering of others and to fearlessly love one another to the end of time." –Mira Bartok, winner of the National Book Critics Circle Award for The Memory Palace

"Resnick expertly ... intersperses bits and pieces of Aron's life in the camps with her feelings about Judaism, her family life and her steadfast belief that the world should do right by her friend, a man who had suffered more than enough. . . . Resnick's compassionate prose captures the voice and soul of Aron, ensuring that his memories will continue long after the number '141324' has disappeared. A poignant, memorable story of friendship and of a period in time that should never be forgotten." —Kirkus Reviews, starred review "In well-executed, second-person prose, Resnick speaks directly to the elderly Aron Lieb—a virtually family-less Holocaust survivor whom she befriends—as he lies on his deathbed in a nursing home. Short vignettes skip back and forth through time, covering the history of their relationship: Resnick's struggle with Jewish identity ("I figured as long as I stayed ambivalent about being Jewish, I might not get killed by the Nazis the next time they came") and Aron's own history before, during, and after the war. The writing is sentimental and emotional (culminating in "Who saved whom?") as much as it is honest and informative; in telling Aron's story, Resnick unapologetically criticizes both the incompetence of elder-care facilities as well as the failure of Jewish communal organizations to help a person who, after a life of hardship, deserves a break. This painful memoir is not easy to read: Resnick displays her artistic skill as she attempts to make sense of Aron's life in light of her own ("I own the book of your life, but I can't read it"). The telling of Aron's story, a true labor of love, is a reminder of both the individuality of each survivor and the reality that their generation is dying and must be remembered." —Publishers Weekly, starred review 

"A rare gem, You Saved Me, Too, finds beauty, humor, and inspiration in even the darkest of moments. Susan Kushner Resnick masterfully interweaves her own narrative with that of an unlikely friend and mentor whose wisdom is rooted in his suffering and in his inevitable flaws. This book celebrates life itself and the redemptive power of love on every page. It also has many lessons to impart, and belongs on every bookshelf right next to Tuesdays with Morrie." —Carlos Eire, author of Waiting for Snow in Havana, winner of the National Book Award
"This is a story of life, love, and fulfillment that will linger long after the book has been finished." —New York Journal of Books
"Susan Kushner Resnick writes with compassion and sometimes anger—but never with sentimentality. Her memoir captures life's cruelties and arbitrariness with an artist's eye, reminding the rest of us what Holocaust survivors already know: that nothing in life—a pet dog, a child's prank, a chance encounter at a JCC—is routine; that there is beauty everywhere we are willing to look." —Josh Rolnick, author of Pulp and Paper

"Susan Kushner Resnick speaks for a whole generation of American baby-boomer Jews who grew up terrified, heartbroken, and riveted by stories of the Holocaust—a connection we could neither embrace or relinquish. Through a passionate fifteen-year friendship with a survivor she met quite randomly in a Boston JCC, Resnick makes the connection between their generation and ours simple and real. Sharing this journey with her—one which is no longer possible, as the last of the survivors die—fills a need many of us have lived with since childhood. Resnick's humor, elegant writing, and almost Anne Frank-like combination of sweetness and sassiness made this the first Holocaust-related book I have enjoyed, or could even bear to read, in many decades."—Marion Winik, author of The Glen Rock Book of the Dead, and First Comes Love
 "The struggle to ensure that Aron's end-of-life days would be comfortable, dignified, and above all companioned—that's a lesser-known tale of survivor experience. That is Susan Kushner Resnick's key contribution—to the literature, and to Aron's life." —Erika Dreifus, author of Quiet Americans: Stories