Gaining Ground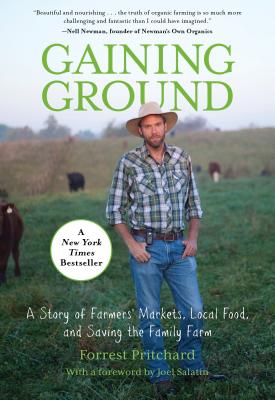 Gaining Ground
A Story of Farmers' Markets, Local Food, and Saving the Family Farm
Lyons Press, Paperback, 9780762787258, 320pp.
Publication Date: May 21, 2013
* Individual store prices may vary.
Buy Now
or
Shop Local
Enter your zip code below to purchase from an indie close to you.
Description
With humor and pathos, Forrest Pritchard recounts his ambitious and often hilarious endeavors to save his family's seventh-generation farm in the Shenandoah Valley. Through many a trial and error, he not only saves Smith Meadows from insolvency but turns.
About the Author
Forrest Pritchard is a professional farmer, writer, and public speaker. Holding degrees in English and geology from William and Mary, Forrest studied under George Garrett with the University of Virginia's MFA program. He has been published in national magazines, and his farm, Smith Meadows, has been featured on NPR and the Washington Post.

Joel Salatin and his family own and operate Polyface Farm, arguably the nation's most famous farm since it was profiled in Michael Pollan's "New York Times" bestseller, "The Omnivore's Dilemma" and two subsequent documentaries, Food, Inc., and Fresh. An accomplished author and public speaker, Salatin has authored seven books. Recognition for his ecological and local-based farming advocacy includes an honorary doctorate, the Heinz Award, and many leadership awards.




Praise For Gaining Ground…
"I've dedicated my business life to supporting organic farmers—but honestly, I didn't have the full story until now. This isn't a hippie manifesto about going back to the land to raise some chickens. Gaining Ground is the beautiful and nourishing story of an accomplished self-taught farmer making it work. It's about passion and dedication. It's about ecology, economy, family. And the truth of organic farming is so much more challenging and fantastic than I could have imagined. You can visit the farm and see for yourself, but start by reading this book. I have great and deep respect for Pritchard's stewardship, and a new love of the American farm."
 —Nell Newman, founder of Newman's Own Organics
"Witty farm memoirs are sprouting like spring wheat, but real food must be tasty as well as good for you; this true story is both."
—Nina Planck, author of Real Food, What to Eat and Why
"Compelling and beautifully written,
Gaining Ground
makes us laugh, cry, and, above all, restores our faith that dreams
can
and do change our world. Wannabe farmers, long-time farmers, and anyone who desires a sustainable food system will all love and learn from this story."

—Tanya Denckla Cobb, author of Reclaiming Our Food and The Gardener's A-Z Guide to Growing Organic Food
"I have been buying food from Forrest for years, but until now I never understood how delicious the story behind the products was. Just as all cooks know a dish is more than the sum of ingredients used, so too is farming more than sun, soil, and rain—it is a human story of endurance, wit, and creativity. Reading this book will give every bite you take a little more savor, a little more flavor knowing the love that it took to create it."
—Barton Seaver, chef, National Geographic fellow, and author of For Cod and Country
"You will be on the edge of your seat as you read about how Forrest Pritchard saved his seventh-generation family farm. . . . [A] highly recommended page-turner for anyone interested in farming and food." 
—Sally Fallon Morell, president of the Weston A. Price Foundation and author of Nourishing Traditions
"A fearless and well-crafted story, full of humor, better-than-fiction characters, and a driving plot that matters to all of us: Can the family farm be saved? It tells the beautiful next chapter in American agriculture, one in which all Americans play a starring role."
—Shannon Hayes, author of Radical Homemakers and The Grassfed Gourmet Cookbook
"Pritchard's engaging memoir opens with him, new English degree in hand, deciding to take over the family farm after fall harvest profits fail to materialize. What follows is a remarkable odyssey of food from farm to table; a classic against-all-odds narrative that will have readers changing their shopping habits. Pritchard is a born storyteller with a shrewd ability to make lively everything from his father's battle with a rogue pig to simple chores like selling firewood or bailing hay. His learned-the-hard-way experiences are thoroughly entertaining and non-farmers will absorb enough about raising livestock and tending land to broaden their expertise at the farmers' market and grocery store. He also addresses the politics involved in supporting local organic meat including issues of price, health, and the environment. By the end of his wonderful book, Pritchard lies in a field pondering his own slim margin of success from slowing things down in our fast paced world; a well-deserved moment of happiness for this important new spokesperson of the future of agriculture and poet of the earth."
—Publishers Weekly (starred review)