It's So Amazing!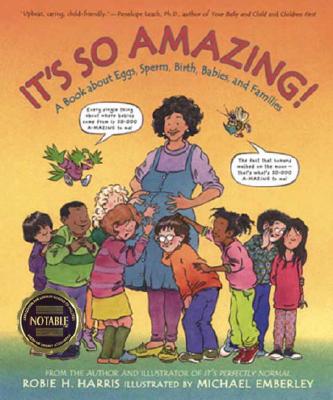 It's So Amazing!
A Book about Eggs, Sperm, Birth, Babies, and Families
Candlewick Press (MA), Hardcover, 9780763600518, 81pp.
Publication Date: March 3, 1999
* Individual store prices may vary.
Not Currently Available for Direct Purchase
or
Shop Local
Enter your zip code below to purchase from an indie close to you.
Description
With honesty, accuracy, humor, and warmth, IT'S SO AMAZING offers children the real information they need—now more than ever.

How does a baby begin? What makes a baby female or male? Why are some babies twins? How is a baby adopted? Children sure have lots of questions about reproduction and babies—and about sex and sexuality too.

IT'S SO AMAZING! provides the fascinating answers—with fun, accurate, comic-book style artwork, and a clear, lively text that reflects an elementary-school child's interest in science and how things work. Throughout the book, a curious Bird and a squeamish Bee help tell the AMAZING story of how a baby is made—from the moment an egg and sperm join, through pregnancy, to birth. IT'S SO AMAZING! also addresses, in a reassuring and age-appropriate way, related topics such as love, sex, gender, families, heterosexuality, homosexuality, sexual abuse, and HIV and AIDS—while giving children a healthy understanding of their bodies.

Robie H. Harris and Michael Emberley, author and illustrator of IT'S PERFECTLY NORMAL: CHANGING BODIES, GROWING UP, SEX AND SEXUAL HEALTH, created IT'S SO AMAZING! in response to requests from parents, educators, librarians, and health professionals for a book that would address a younger child's concerns. Vetted and approved by science, health, and child development experts, this comprehensive, forthright, and funny book is just what children need—to provide answers to their questions and to keep them safe, healthy, and unafraid.
About the Author
Robie H. Harris says the memory of the day her second child was born inspired HI NEW BABY! "When my older child met his new baby brother, he was full of feelings--excitement and disappointment when he finally saw the baby, surprise that the new baby was so tiny, upset when the baby cried, bored when the baby slept, angry that he was no longer the baby, and proud when he realized that he could make the baby stop crying. This was another story, like HAPPY BIRTH DAY!, that my children--who are now best friends--loved hearing."
Michael Emberley says, "After carpeting my studio floor with hundreds of sketches in my struggle to capture the complex emotions of the young girl in this book, I think I finally know what must have been going on in my sister's mind on the day I was born." Michael Emberley's art for HI NEW BABY! features the same family that readers meet in HAPPY BIRTH DAY!

Michael Emberley is the New York Times best-selling illustrator of You Read to Me, I'll Read to You, written by Mary Ann Hoberman, and has written several books of his own, including Ruby and Dinosaurs! A Drawing Book.

Praise For It's So Amazing!…
"IT'S SO AMAZING! is the amazingly upbear and caring book that children have been waiting for — because it answers the many quetions most children have about babies, bodies, love, sex, reproduction, and family. This book is totally child-friendly and the perfect read-aloud book for children and families. Try if for the best-ever depiction of the real meaning of family." — Penelope Leach, Ph.D., author of YOUR BABY AND CHILD and CHILDREN FIRST


"This thoughtufl, innovative, and comprehensive book helps children with issues that are on their minds anyway — and gives all of us the language we need to share with them." — T. Berry Brazelton, M.D., author of TOUCHPOINTS: YOUR CHILD'S EMOTIONAL AND BEHAVIORAL DEVELOPMENT

As a pediatrician, I know that children have many questions about reproduction, birth, bodies, babies, and families. Finding the answers, in a comfortable, appropriate, and interesting way, is an essential part of growing up healthy in body and mind. This book provides an opportunity for children to find answers to their quetions with clarity of explanation, fabulous illustrations, and humor, together with an all-important sense of wonder." — Perri Klass, M.D., Medical Director of Reach Out and Read, Boston, MA

"An excellent resource on sex education for young children, presented in a lively and engaging style for both kids and parents. A book every family should own." — Alvin F. Poussaint, M.D., Clinical Professor of Psychiatry, Harvard Medical School; co-author of RAISING BLACK CHILDREN: TWO LEADING PSYCHIATRISTS CONFRONT THE EDUATIONAL, SOCIAL, AND EMOTIONAL PROBLEMS FACING BLACK CHILDREN