Clever Lollipop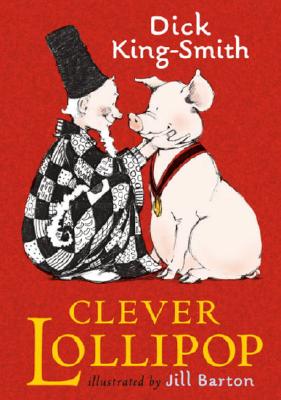 Clever Lollipop
Candlewick, Hardcover, 9780763621742, 144pp.
Publication Date: July 14, 2003
* Individual store prices may vary.
Not Currently Available for Direct Purchase
or
Shop Local
Enter your zip code below to purchase from an indie close to you.
Description
Dick King-Smith delights readers again with an enchanting tale of an intelligent pig, her royal family, and one very special teacher.


Princess Penelope doesn't know how to read, and she's not certain she wants to learn how. But the new royal tutor, Collie Cob the Conjurer - with his long white beard, brimless top hat, and strange, multicolored clothing - is no ordinary teacher. Whether working with a person (like Penelope and her friend Johnny) or a pig (like Penelope's pet, Lollipop), Collie Cob can teach anyone just about anything, almost as if by magic. Combining short, breezy chapters and abundant black-and-white illustrations, here is a winning pig tale that is sure to appeal to both early readers and the read-aloud crowd.
About the Author
Dick King-Smith is the immensely popular author of many picture books and chapter books, including BABE, THE GALLANT PIG; the Sophie series, illustrated by David Parkins; and LADY LOLLIPOP, the first book in his series about a stubborn princess and an unusual pig. "When I sat down to write a sequel to LADY LOLLIPOP," he says, "all the characters were still there, but I felt that they needed a bit more magic - and so Collie Cob came along."


Jill Barton has brought her engaging style to numerous award-winning children's books, including RATTLETRAP CAR and WHAT BABY WANTS by Phyllis Root; THE PIG IN THE POND by Martin Waddell; and the much-loved IN THE RAIN WITH BABY DUCK; YOU'RE THE BOSS, BABY DUCK; BABY DUCK AND THE BAD EYEGLASSES; and MAKE THE TEAM, BABY DUCK! - all written by Amy Hest.