Jonathan Swift's Gulliver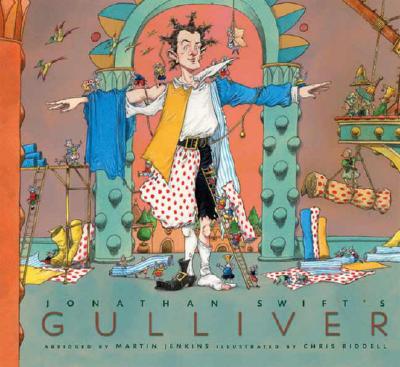 Jonathan Swift's Gulliver
Candlewick Press (MA), Hardcover, Abridged, 9780763624095, 144pp.
Publication Date: February 3, 2005
* Individual store prices may vary.
Buy at Local Store
Enter your zip code below to purchase from an indie close to you.
or
Not Currently Available for Direct Purchase
Description
A tour de force of illustration and design, JONATHAN SWIFT'S GULLIVER is a magnificent introduction to one of the most popular stories in the English language.

First published in 1726, Jonathan Swift's classic adventure story has long been a favorite with adults and children alike. This magnificent edition contains all of Gulliver's extraordinary voyages. Travel to Lilliput, land of the small, and Brobdingnag, land of giants; to Laputa, where inhabitants need to be hit on the head with sticks to remind them to talk; to Glubbdubdrib, island of ghosts and magicians; and finally, to the kingdom of the Houyhnhnms, where horses rule over humans.

Award-winning author Martin Jenkins has skillfully abridged the original novel, remaining true to its tone and humor while making it accessible to younger readers. He is brilliantly assisted by Kate Greenaway Medalist Chris Riddell, who brings to life the people, creatures, and kingdoms of Swift's searing imagination in wonderful panoramic detail.
About the Author
Born in 1667, Jonathan Swift was an Irish writer and cleric, best known for his works Gulliver s Travels, A Modest Proposal, and A Journal to Stella, amongst many others. Educated at Trinity College in Dublin, Swift received his Doctor of Divinity in February 1702, and eventually became Dean of St. Patrick s Cathedral in Dublin. Publishing under the names of Lemeul Gulliver, Isaac Bickerstaff, and M. B. Drapier, Swift was a prolific writer who, in addition to his prose works, composed poetry, essays, and political pamphlets for both the Whigs and the Tories, and is considered to be one of the foremost English-language satirists, mastering both the Horatian and Juvenalian styles. Swift died in 1745, leaving the bulk of his fortune to found St. Patrick s Hospital for Imbeciles, a hospital for the mentally ill, which continues to operate as a psychiatric hospital today.

Paul Stewart is a highly acclaimed author of books for young readers. Chris Riddell is a renowned political cartoonist and illustrator of children s books. Together, Stewart and Riddell have formed an award-winning partnership and created the bestselling Edge Chroniclesseries, which has sold more than two million copies and is now available in more than thirty languages.