A Collection of Rudyard Kipling's Just So Stories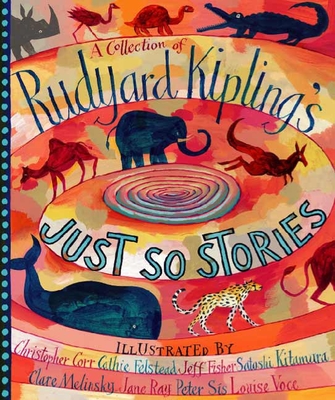 A Collection of Rudyard Kipling's Just So Stories
Candlewick Press (MA), Hardcover, 9780763626297, 127pp.
Publication Date: October 2004
* Individual store prices may vary.
Shop Local
Enter your zip code below to find indies closest to you.
Description
In this gorgeous collection featuring eight of Kipling's JUST SO STORIES, each tale is illustrated by a different leading contemporary artist.
How did the rude Rhinoceros get his baggy skin? How did a 'satiably curious Elephant change the lives of his kin evermore? First told aloud to his young daughter ("O my Best Beloved"), Rudyard Kipling's inspired answers to these and other burning questions draw from the fables he heard as a child in India and the folktales he gathered from around the world. Now, in this sumptuous volume, Kipling's playful, inventive tales are brought to life by eight of today's celebrated illustrators, from Peter Sis's elegantly graphic cetacean in "How the Whale Got His Throat" to Satoshi Kitamura's amusingly expressive characters in "The Cat That Walked by Himself." From one of the world's greatest storytellers come eight classic tales just begging to be heard by a new generation -- and a visual feast that offers a reward with every retelling.
Featuring illustrations by:
Christopher Corr
Cathie Felstead
Jeff Fisher
Satoshi Kitamura
Claire Melinsky
Jane Ray
Peter Sis
Louise Voce.
About the Author
Rudyard Kipling was born Joseph Rudyard Kipling in Bombay, India in 1865. At the age of five, he was sent to England to be educated. He later returned to India, where he worked as a journalist and writer before traveling the world. He subsequently made his home in England, India, the United States, and South Africa. Kipling wrote The Jungle Books while living with his wife and young children in the United States near Brattleboro, Vermont. By the time The Jungle Books were published in 1894 and 1895, Kipling had become one of the most famous writers in England. In 1907, he became the first English-language writer to receive the Nobel Prize in literature. He died in England in 1936.

Christopher Corr was born in London and studied at the Royal College of Art. His round the world travels provide much inspiration for his work.

Cathie Felstead has also illustrated Big Wolf and Little Wolf, by Sharon Phillips Denslow, and An Island Grows, by Lola M. Schaefer. She studied illustration at the Royal College of Art in London and lives in Hertfordshire, England.