Construction Zone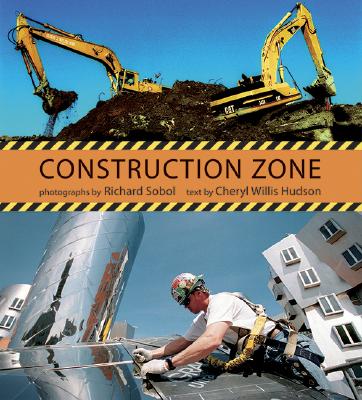 Construction Zone
Candlewick Press (MA), Hardcover, 9780763626846, 32pp.
Publication Date: May 2006
* Individual store prices may vary.
Shop Local
Enter your zip code below to find indies closest to you.
Description
Caution! Construction zone ahead! Anyone who has ever stopped to watch a big building going up — and who hasn't? — will be thrilled by this behind-the-scenes look at an amazing construction project.

Put on your hard hat and step inside CONSTRUCTION ZONE! Young readers are invited to come on a virtual tour of a building in progress, led by award-winning photographer Richard Sobol. It takes hundreds of workers, thousands of trucks and machines, and millions of nails and bolts to transform an idea on paper into an actual building in which people will live, play, shop, or work. Every single piece of the construction puzzle — big and small — must fit together flawlessly. With a clear, direct narrative and handy definitions of construction-related jobs, machines, and terms, Cheryl Willis Hudson distills this most complex of projects into language a young child can grasp. The building itself — the Stata Center at the Massachusetts Institute of Technology, designed by Pritzker Prize-winning architect Frank O. Gehry — is playful and colorful, sculpted to excite, delight, and surprise. Richard Sobol's vivid color photographs capture all the excitement of the busy construction site, while offering a close-up view of its breathtaking genius.
About the Author
Cheryl Willis Hudson is the author of a dozen books for children, including BRIGHT EYES, BROWN SKIN (coauthored with Bernette G. Ford) and COME BY HERE, LORD: EVERYDAY PRAYERS FOR CHILDREN. She says that HANDS CAN was inspired by her own children. "I was amazed by the versatility, dexterity, utility, and even gracefulness of such small fingers," she says. "I began to see hands as marvelous works of art, and I wanted to somehow capture that vision in a children's book."
John-Francis Bourke was born in Dublin, Ireland, and now works in New York City. His photographs have been published in GQ, TV GUIDE, ESPN THE MAGAZINE, NICK JR., PARENTING, and PARENTS. He says, "Photographing people provides me with a constant stream of new faces, new words, new conversation - it never gets old. Photographing children gives you all that, plus innocence and curiosity. Wonderful!" This is his first book for children.

Richard Sobol is a Boston-based photographer whose work has appeared in "National Geographic", "Time", "Newsweek", "Outside", and many other publications.