Judy Moody, Girl Detective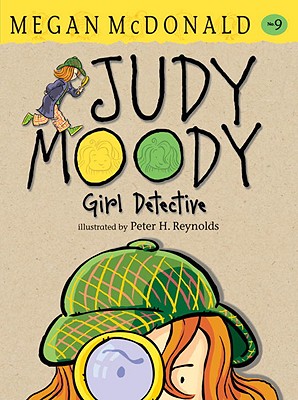 Judy Moody, Girl Detective
Candlewick Press (MA), Hardcover, 9780763634506, 170pp.
Publication Date: August 10, 2010
* Individual store prices may vary.
Buy Now
or
Shop Local
Enter your zip code below to purchase from an indie close to you.
Description
It's an honest-to-jeepers mystery Agent Judy Drewdy sets out to solve the case of the missing puppy when a canine-cop-in-training vanishes into thin air.
Judy Moody is in a mood. A sleuthing, Nancy Drew kind of mood. So what's a WBMS (world's best mystery solver) to do? Go find a mystery, that's what And she doesn t have to snoop for long: when Mr. Chips, a beloved crime-dog-in-training, goes missing, Judy Drewdy and her chums, agents Dills Pickle (Frank), Spuds Houdini (Rocky), and James Madagascar (Stink) find themselves smack-dab in the middle of a reallife, scare-your-pants-off whodunit. Was Mr. Chips stolen by dirty dognappers? And why are chocolate-chip cookies disappearing all over town? Watch out for red herrings along with clever references to classic Nancy Drew mysteries as Eagle Eye Moody and company are hot on the case
About the Author
Megan McDonald is the creator of the popular and award-winning Judy Moody and Stink series. She is also the author of the Sisters Club trilogy, Ant and Honey Bee: A Pair of Friends at Halloween, Ant and Honey Bee: A Pair of Friends in Winter, and many other books for children. She lives in Sebastopol, California, with her husband.

Peter H. Reynoldsis a New York Times best-sellingillustrator who has created manyacclaimed books for children, including "The Dot, Ish, " and"The North Star."His bookstore, The Blue Bunny, and his company, FableVision, both in Massachusetts, are dedicated to sharing stories that matter, stories that move. Visit his webite at www.peterhreynolds.com.
Praise For Judy Moody, Girl Detective…
These books...are likely to improve the reader's mood by a good bit.
—Washington Post