The Robe of Skulls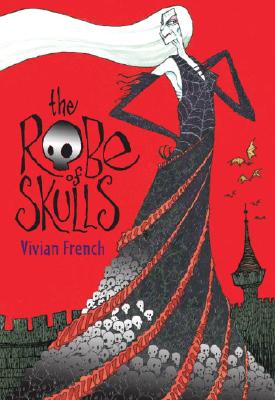 The Robe of Skulls
Candlewick Press (MA), Hardcover, 9780763635312, 200pp.
Publication Date: July 1, 2008
* Individual store prices may vary.
Buy at Local Store
Enter your zip code below to purchase from an indie close to you.
or
Not Currently Available for Direct Purchase
Description
Fire up your cauldron for an exuberant, fast-moving, wildly entertaining tale with a cast of characters who are good, bad, and very, very ugly.

High above the mountain village of Fracture, trouble is brewing. The sorceress Lady Lamorna wants a skull-studded gown of deep black velvet, but her treasure chest is empty of gold. That doesn't stop her, however — from kidnapping, blackmailing, and using more than a little magic to get what she needs. Will her plans be foiled by the heroic Gracie Gillypot, two chatty bats, a gallant (if scruffy) prince, the wickedest stepsister ever, a troll with a grudge, and some very ancient crones? Humorously macabre and wickedly illustrated in black and white, THE ROBE OF SKULLS is truly a scream.
About the Author
Vivian French s writing career began in 1990 after many years of acting and storytelling. She writes across genres and age groups and has published dozens of acclaimed books for children, including A PRESENT FOR MOM; GROWING FROGS; I LOVE YOU, GRANDPA; T. REX; and THE STORY OF CHRISTMAS. She lives in Scotland."
Praise For The Robe of Skulls…
Chapter One
"Skulls," said Lady Lamorna. "Definitely skulls. Rows and rows of dear little skulls, sewn all along the hem." She sighed with pleasure as she imagined the clitter-clatter of bone on her cold stone floors. "After all, it really is time I had a new gown. Black velvet, of course, and long . . . very long. Perhaps embroidered? Hmm . . . yes. A motif of spiders, or maybe twists of poison ivy." Her huge silver eyes gleamed. "In fact, why not interweave the ivy with spiders' webs? That
would be truly beautiful. And petticoats. Layers and layers of blood-red petticoats . . . oh, yes, yes, YES! It will be a robe beyond all compare, and I shall order it this very minute!"

Lady Lamorna snapped her long bony fingers, and within seconds a sharp-toothed bat came flipping in through the open window.

"Yup?"

"I have an order for the Ancient Crones," Lady Lamorna said. "I require a new robe, edged with
skulls-"

"Got it." The bat made a swift circle over the Lady's head. "Skulls, velvet, webs, ivy, petticoats. No prob. Delivery date?"

Lady Lamorna looked put out. "Bat! Listen to me! I would like a new robe, made of deep-black
velvet-"

"Told ya. I got it." The bat circled again. "Heard you a mile away. I'm a bat, right? Bat ears 'n' all that stuff. Now-delivery?"

Lady Lamorna gave up. "As soon as possible," she said stiffly.

"Roger Wilco. I'll be back soon with info on price and delivery. Have the readies ready. Coins of all denominations readily accepted. Ciao!" And the bat whizzed away into the purple twilight.

For a second, Lady Lamorna considered frizzling the bat to a burnt ember as it flew, but then she
remembered her delicious dress. With a smile of happy anticipation, she swept toward her treasure chest, flung open the lid . . . and SCREAMED!



They still talk about that scream in the high mountain village of Fracture. Dogs howled and bit their owners.

Cats' whiskers curled into corkscrews and fell off.

Children clutched their ears and shrieked in agony.

Only the old and extremely deaf were spared . . . the old, the extremely deaf, and Gracie Gillypot.

Gracie had been shut in her stepfather's cold, dark, and spidery cellar for being cheerful, and the cellar had very thick walls. Even in the cellar she heard a faint cry and wondered what it could be-but her ears did nothing worse than tingle. Her stepsister, Foyce, caught the full blast, and when Gracie was finally allowed out of the cellar, Foyce slapped her several times because her
head felt as if it were full of stinging wasps, and she didn't like it.

Gubble, crouched only a few yards away from Lady Lamorna as she hit the highest and most piercing note of her scream, sighed heavily. He'd been the Lady's servant for more than 170 years, and he had heard her scream before. He knew what the scream meant. It meant trouble.
"Ttwenty-four-carat gold. I forgot reading could be this much fun." — Philip Ardagh, author of the Eddie Dickens trilogy — Philip Ardagh