Belle, the Last Mule at Gee's Bend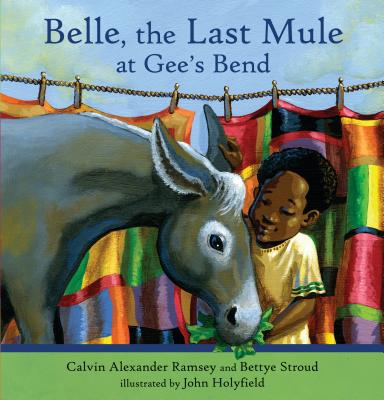 Belle, the Last Mule at Gee's Bend
A Civil Rights Story
Candlewick Press (MA), Hardcover, 9780763640583, 32pp.
Publication Date: September 13, 2011
* Individual store prices may vary.
Buy at Local Store
Enter your zip code below to purchase from an indie close to you.
or
Buy Here
Description
A true story inspires the moving tale of a mule that played a key role in the civil rights movement-- and a young boy who sees history anew.

Sitting on a bench waiting for his mother, Alex spies a mule chomping on greens in someone's garden, and he can't help but ask about it.""Ol Belle?" says Miz Pettway next to him. "She can have all the collards she wants. She's earned it." And so begins the tale of a simple mule in Gee's Bend, Alabama, who played a singular part in the civil rights movement of the 1960s. When African-Americans in a poor community-- inspired by a visit from Dr. Martin Luther King, Jr.-- defied local authorities who were trying to stop them from registering to vote, many got around a long detour on mule-drawn wagons. Later, after Dr. King's assassination, two mules from Gee's Bend pulled the farm wagon bearing his casket through the streets of Atlanta. As Alex looks into the eyes of gentle Belle, he begins to understand a powerful time in history in a very personal way.
About the Author


Bettye Stroud is the author of several picture books that speak of her African American heritage, including DANCE Y'ALL, THE LEAVING, and DOWN HOME AT MISS DESSA'S. Of THE PATCHWORK PATH, she says, "I want my writing to be inspirational to children as they face the 'demons' I write about. I hope my readers see themselves and know they are not alone in facing disappointments. I want them to know all is never lost; there is always hope."
Erin Susanne Bennett is a recent graduate of the Savannah College of Art and Design. Of THE PATCHWORK PATH, her first book, she says, "Growing up in Rochester, New York, had a tremendous impact on my awareness of the Underground Railroad. Illustrating THE PATCHWORK PATH has only deepened my appreciation for the immense strength, courage, and sacrifice embodied by African American slaves and those who fought with them for equality."

John Holyfield's first picture book was The Hard-Times Jar by Ethel Footman Smothers, for which he received a Flying Start in Publishers Weekly. A renowned fine artist, his paintings and prints can be found in galleries nationwide. John began painting at the age of nine, and his work is rich in cultural themes that capture the essence of the African American experience. John lives and paints in Rosemont, West Virginia.
Praise For Belle, the Last Mule at Gee's Bend…
An intergenerational story filled with heart and soul.
—Kirkus Reviews

Lovely to look at, informative, infinitely readable. The kind of book you can simply enjoy reading and having on your shelf.
—A Fuse 8 Production (SLJ blog)