The Hound Dog's Haiku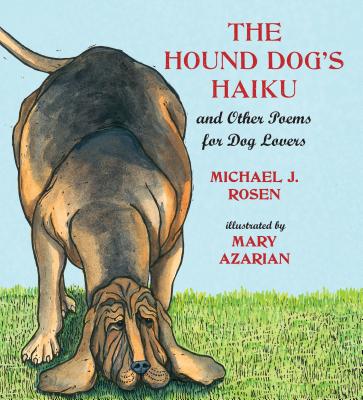 The Hound Dog's Haiku
And Other Poems for Dog Lovers
Candlewick Press (MA), Hardcover, 9780763644994, 56pp.
Publication Date: September 13, 2011
* Individual store prices may vary.
Buy Now
or
Shop Local
Enter your zip code below to purchase from an indie close to you.
Description
A deft (and dog-loving) poet teams up with a Caldecott-winning artist in a fun, fetching haiku collection for anyone who's ever loved a dog.

A corgi dozes with paws in the air. A bloodhound burrows into a scent. A border collie tracks a herd of cows. A wagging spaniel leaps for joy. In simple, charming haiku, poet Michael J. Rosen portrays twenty beloved dog breeds, from the pug to the Dalmatian to the golden retriever. Complete with interesting facts about each breed and illustrated with Mary Azarian's striking woodcuts, this keepsake volume is sure to set any dog lover's tail a-wagging.
About the Author
The editor of More Mirth of a Nation: The Best Contemporary Humor, Michael J. Rosen has been called the unofficial organizer of the National Humor Writer's Union, a pretty good idea for an organization that could offer all kinds of benefits to its struggling members (currently numbering more than 300 who have never been published in The New Yorker or aired on NPR). He has been called other things as well, like in third grade, and then in seventh grade especially, by certain older kids known as "hoods," who made his life miserable, specifically during gym class, lunch period and after school. Later, much later, the Washington Post called him a "fidosopher" because of his extensive publications on dogs, dog training, and dog-besotted people. The New York Times called him an example of creative philanthropy in their special "Giving" section for persuading "writers, artists, photographers and illustrators to contribute their time and talents to books" that benefit Share Our Strength's anti-hunger efforts and animal-welfare causes. As an author of a couple dozen books for children, he's been called...okay, enough with the calling business.
For nearly twenty years, he served as literary director at the Thurber House, a cultural center in the restored home of James Thurber. Garrison Keillor, bless his heart, called it (sorry) "the capital of American humor." While there, Rosen helped to create The Thurber Prize for American Humor, a national book award for humor writing, and edited four anthologies of Thurber's previously unpublished and uncollected work, most recently The Dog Department: James Thurber on Hounds, Scotties and Talking Poodles, happily published by HarperCollins as well.
In his capacity as editor for this biennial, Rosen reads manuscripts year round, beseeching and beleaguering the nation's most renowned and well-published authors, and fending off the rants and screeds from folks who've discovered the ease of self-publishing on the web. Last summer, Rosen edited a lovely book, 101 Damnations: The Humorists' Tour of Personal Hells; while some critics (all right, one rather outspoken friend) considered this a book of complaints, Rosen has argued that humor, like voting and picketing and returning an appliance that "worked" all of four months before requiring a repair that costs twice the purchase price, humor is about the desire for change. It's responding to the way things are compared to the way you'd like things to be. And it's a much more convivial response than pouting or cornering unsuspecting guests at dinner parties.
Caldecott Medalist Mary Azarian is a consummate gardener and a skilled and original woodblock artist. Many of her prints are heavily influenced by her love of gardening, and her turn-of-the-century farmhouse is surrounded by gardens that reveal an artist's vision. Mary Azarian received the 1999 Caldecott Medal for SNOWFLAKE BENTLEY, written by Jacqueline Briggs Martin. She lives, skis, and gardens in Vermont.
Praise For The Hound Dog's Haiku…
Pooches large and small, common and rare abound in this glorious collection of haiku...brilliant in every way: poetically, visually-the Tao of dogginess!
—Kirkus Reviews (starred review)

Each poem is spot-on both in terms of poetic excellence and insight into unique characteristics of the diverse canines...truly, a dog treat to be savored.
—Library Media Connection (starred review)