The Fairy Ring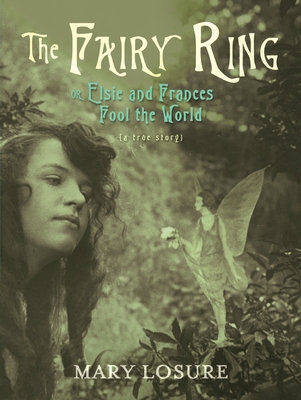 The Fairy Ring
Or Elsie and Frances Fool the World
Candlewick Press (MA), Hardcover, 9780763656706, 192pp.
Publication Date: March 27, 2012
* Individual store prices may vary.
Buy Now
or
Shop Local
Enter your zip code below to purchase from an indie close to you.
Description
The enchanting true story of a girl who saw fairies, and another with a gift for art, who concocted a story to stay out of trouble and ended up fooling the world.
Frances was nine when she first saw the fairies. They were tiny men, dressed all in green. Nobody but Frances saw them, so her cousin Elsie painted paper fairies and took photographs of them "dancing" around Frances to make the grown-ups stop teasing. The girls promised each other they would never, ever tell that the photos weren't real. But how were Frances and Elsie supposed to know that their photographs would fall into the hands of Sir Arthur Conan Doyle? And who would have dreamed that the man who created the famous detective Sherlock Holmes believed ardently in fairies-- and wanted very much to see one? Mary Losure presents this enthralling true story as a fanciful narrative featuring the original Cottingley fairy photos and previously unpublished drawings and images from the family's archives. A delight for everyone with a fondness for fairies, and for anyone who has ever started something that spun out of control.
About the Author
Mary Losure is a former Minnesota Public Radio reporter and freelance contributor to National Public Radio. She's now writing narrative non-fiction for children.
Praise For The Fairy Ring…
From the bottle-green cover showing Elsie dreamily regarding a fairy to the book's creamy pages and art-nouveau lettering, "The Fairy Ring" is as delightful to hold as it is captivating to read.
—The Wall Street Journal

The yearning for the supernatural and the magical to be real seems timeless. In the early years of the twentieth century it was fairies that intrigued, especially those in a handful of photographs made by two girls in England...Losure has written an engaging account of the affair, focusing sympathetically on the two young photographers, Frances Griffiths and Elsie Wright... Losure provides a straightforward narrative that gives young readers a sense of the girls' different personalities; the girls' daily life in WWI Yorkshire; and the type of small events that may well have provoked them to stage the photographs.
—The Horn Book (starred review)

Losure's elegant and charmingly formal prose makes palpable the girls' loss of control as their fame spirals ever wider... The photos themselves are included and, like the astonishing true story, they are simultaneously silly and haunting.
—Booklist (starred review)

The book does a lovely job of portraying the youngsters in a well-rounded way; Losure does not shy away from clearly stating that they lied, but also takes time to demonstrate their motivations behind creating (and sustaining) the hoax... The inclusion of the actual photographs and correspondences between the two girls and the two men who wished to prove to the world that fairies exist add depth and reality to the story. This is well-written nonfiction that reads like a novel; former fans and secret believers of fairy stories will thoroughly enjoy this account of how two girls fooled the world.
—School Library Journal (starred review)