Chanukah Lights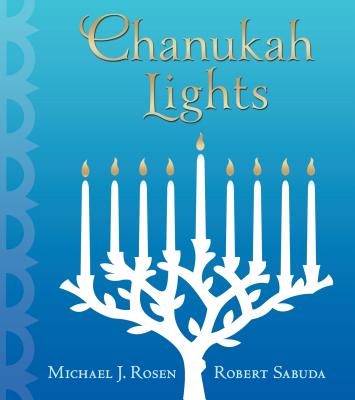 Chanukah Lights
Candlewick Press (MA), Hardcover, 9780763657499, 16pp.
Publication Date: September 27, 2011
* Individual store prices may vary.
Not Currently Available for Direct Purchase
or
Shop Local
Enter your zip code below to purchase from an indie close to you.
Description
From a pop-up master and an acclaimed poet and author comes a glorious celebration of the true spirit of Chanukah.

Open this beautiful gift book and follow the Festival of Lights through place and time — from Herod's temple to a shtetl in Russia; from a refugee ship bound for the New World to an Israeli kibbutz. Inspired by Michael J. Rosen's reverent poem, Robert Sabuda's striking pop-ups depict each night's menorah in a different scene, using imagery such as desert tents, pushcart lanterns, olive trees, and a final panorama of skyscrapers. Sure to be a treasured family heirloom, this stunning collaboration showcases the spirit and resilience of a people in search of home.
About the Author
The editor of More Mirth of a Nation: The Best Contemporary Humor, Michael J. Rosen has been called the unofficial organizer of the National Humor Writer's Union, a pretty good idea for an organization that could offer all kinds of benefits to its struggling members (currently numbering more than 300 who have never been published in The New Yorker or aired on NPR). He has been called other things as well, like in third grade, and then in seventh grade especially, by certain older kids known as "hoods," who made his life miserable, specifically during gym class, lunch period and after school. Later, much later, the Washington Post called him a "fidosopher" because of his extensive publications on dogs, dog training, and dog-besotted people. The New York Times called him an example of creative philanthropy in their special "Giving" section for persuading "writers, artists, photographers and illustrators to contribute their time and talents to books" that benefit Share Our Strength's anti-hunger efforts and animal-welfare causes. As an author of a couple dozen books for children, he's been called...okay, enough with the calling business.
For nearly twenty years, he served as literary director at the Thurber House, a cultural center in the restored home of James Thurber. Garrison Keillor, bless his heart, called it (sorry) "the capital of American humor." While there, Rosen helped to create The Thurber Prize for American Humor, a national book award for humor writing, and edited four anthologies of Thurber's previously unpublished and uncollected work, most recently The Dog Department: James Thurber on Hounds, Scotties and Talking Poodles, happily published by HarperCollins as well.
In his capacity as editor for this biennial, Rosen reads manuscripts year round, beseeching and beleaguering the nation's most renowned and well-published authors, and fending off the rants and screeds from folks who've discovered the ease of self-publishing on the web. Last summer, Rosen edited a lovely book, 101 Damnations: The Humorists' Tour of Personal Hells; while some critics (all right, one rather outspoken friend) considered this a book of complaints, Rosen has argued that humor, like voting and picketing and returning an appliance that "worked" all of four months before requiring a repair that costs twice the purchase price, humor is about the desire for change. It's responding to the way things are compared to the way you'd like things to be. And it's a much more convivial response than pouting or cornering unsuspecting guests at dinner parties.
ROBERT SABUDA is the co-creator of the first book in this series, ENCYCLOPEDIA PREHISTORICA: DINOSAURS. He is the force behind many stunning best-selling pop-up books, including AMERICA THE BEAUTIFUL, ALICE IN WONDERLAND, and THE WONDERFUL WIZARD OF OZ.
MATTHEW REINHART is the co-creator of ENCYCLOPEDIA PREHISTORICA: DINOSAURS, the first title in this series. He has also created many other award-winning pop-up books, including the YOUNG NATURALIST series, THE POP-UP BOOK OF PHOBIAS, and ANIMAL POPPOSITES.