Soonchild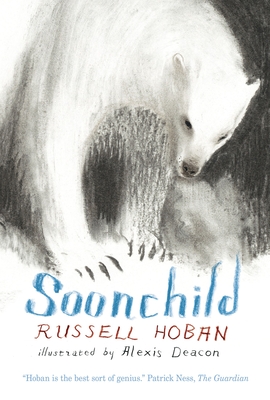 Soonchild
Candlewick Press (MA), Hardcover, 9780763659202, 132pp.
Publication Date: August 14, 2012
* Individual store prices may vary.
Buy Now
or
Shop Local
Enter your zip code below to purchase from an indie close to you.
Description
Two internationally acclaimed artists create a groundbreaking, genre-defying adventure to transcend time, place, and identity.

In the cold north where the white wind blows lives Sixteen-Face John, a shaman. His wife is expecting their first child — a "soonchild." But Soonchild won't come out! So John sets out to find the World Songs that inspire all soonchildren to leave the womb. Along the way, he must shift shape and size, converse with animals and ancestors, and face demons and death. But he also pursues an elusive golden-eyed presence that hints at a connection with his past. This breathtaking novel, as exciting as it is spooky, is a lyrical tribute to the forces of nature, magic, and family.
About the Author
Russell Hoban was the author of A Bargain for Frances, A Baby Sister for Frances, Best Friends for Frances, A Birthday for Frances, and Bread and Jam for Frances, all illustrated by Lillian Hoban. He also wrote Bedtime for Frances, illustrated by Garth Williams.

Alexis Deacon is an acclaimed illustrator; Beegu and Jitterbug Jam, both of which he illustrated, were named New York Times Best Illustrated Books of the Year.
Praise For Soonchild…
In Hoban's final work, rough-edged characters who speak in prose-poetry hurtle through an Arctic world in which humans, animals, and underworld spirits share a dizzying variety of magical powers... Hoban fearlessly tackles the big questions: the distinction between the real and the unreal, the nature of courage, and the debt humans owe the dead and the unborn. Deacon's charcoal drawings render Hoban's mix of horror and slapstick note for note. Hoban's fans will revel in this last tale of his, and they'll mourn when it's done.
—Publishers Weekly (starred review)

It's sort of a legend and sort of contemporary, it's both playful and challenging, and it's equally profound and offhandedly glib. And among its numerous, unexpected joys is perhaps the simplest and best summation of life yet: "It's one good-bye after another until you reach the Big Hello at the end when That's All She Wrote." . . . Deacon's contributions to the story begin as a few pieces of spot art scattered about the periphery, which then become more integrated and even include pages-long sequences that carry just as much weight and wit as the narrative. Together, they weave a funny and wise tale that will echo with readers for a long time.
—Booklist (starred review)

These illustrations, combined with the author's lyrical language, engage the reader in a magical, thought-provoking expedition.
—NY Journal of Books