Flora and Ulysses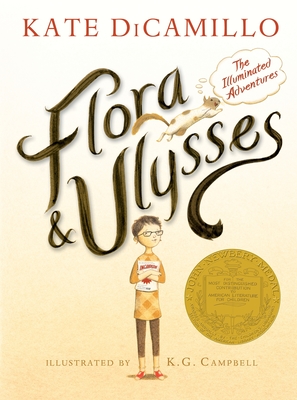 Flora and Ulysses
The Illuminated Adventures
Candlewick Press (MA), Hardcover, 9780763660406, 240pp.
Publication Date: September 24, 2013
* Individual store prices may vary.
Buy Now
or
Shop Local
Enter your zip code below to purchase from an indie close to you.
Description
Winner of the 2014 Newbery Medal
Holy unanticipated occurrences A cynic meets an unlikely superhero in a genre-breaking new novel by master storyteller Kate DiCamillo.
It begins, as the best superhero stories do, with a tragic accident that has unexpected consequences. The squirrel never saw the vacuum cleaner coming, but self-described cynic Flora Belle Buckman, who has read every issue of the comic book "Terrible Things Can Happen to You , " is just the right person to step in and save him. What neither can predict is that Ulysses (the squirrel) has been born anew, with powers of strength, flight, and misspelled poetry and that Flora will be changed too, as she discovers the possibility of hope and the promise of a capacious heart. From #1" New York Times" best-selling author Kate DiCamillo comes a laugh-out-loud story filled with eccentric, endearing characters and featuring an exciting new format a novel interspersed with comic-style graphic sequences and full-page illustrations, all rendered in black-and-white by up-and-coming artist K. G. Campbell.
About the Author
Kate DiCamillo is the acclaimed author of many books for young readers, including The Tale of Despereaux, winner of the Newbery Medal; Because of Winn-Dixie, a Newbery Honor Book; and The Tiger Rising, a National Book Award finalist. She lives in Minneapolis, Minnesota.


Praise For Flora and Ulysses…
Newbery-winner DiCamillo is a master storyteller not just because she creates characters who dance off the pages and plots, whether epic or small, that never fail to engage and delight readers. Her biggest strength is exposing the truths that open and heal the human heart. She believes in possibilities and forgiveness and teaches her audience that the salt of life can be cut with the right measure of love.
—Booklist (starred review)

Original, touching and oh-so-funny tale starring an endearingly implausible superhero and a not-so-cynical girl.
—Kirkus Reviews (starred review)

Despite supremely quirky characters and dialogue worthy of an SAT prep class, there's real emotion at the heart of this story involving two kids who have been failed by the most important people in their lives: their parents.
—Publishers Weekly (starred review)

Rife with marvelously rich vocabulary reminiscent of the early superhero era (e.g., "Holy unanticipated occurrences!") and amusing glimpses at the world from the point of view of Ulysses the supersquirrel, this book will appeal to a broad audience of sophisticated readers. There are plenty of action sequences, but the novel primarily dwells in the realm of sensitive, hopeful, and quietly philosophical literature.
—School Library Journal (starred review)

Eccentric characters, snappy prose and the fantastical plot give this delightful novel a giddy, over-the-top patina, but the core is big and hopeful, contemplative and bursting with heart. No small feat, even for a superhero like DiCamillo.
—Shelf Awareness

In "Flora and Ulysses," longtime fans will find a happy marriage of Mercy Watson's warmth and wackiness and Edward Tulane's gentle life lessons. In Flora, they will find a girl worth knowing, and one they will remember.
—The New York Times Book Review

Full of Ms. DiCamillo's dry, literate wit and bursting every so often into action-packed comic-strip sequences illustrated by K.G. Campbell... [a] funny, eccentric novel.
—The Wall Street Journal

[L]augh-out-loud funny, tender, difficult and hopeful all at once. ... Cynics beware, this book is meant for those open to joy, wonder, loyalty and friendship of all stripes.
—The Huffington Post

Kate DiCamillo's newest book ... is that rarest of all treasures, a truly inventive and appealing children's middle-grade novel.
—The Boston Globe

[A] fast-paced, funny tale. ... Like all of DiCamillo's books, Flora & Ulysses is filled with adventure, but also plenty of humor and soul. ... DiCamillo has seamlessly blended comic-book elements and a zany cast of characters into a thoroughly original, heartwarming tale.
—BookPage

This is a fun and clever tale of an unlikely hero uniting an even more unlikely cast of characters. Kate DiCamillo strikes again. Each character is well-drawn, the story is packed with fun references and asides. It's a perfect blend of poignancy and magic.
—Fall 2013 Parents' Choice Book Awards

DiCamillo does here what she does best, which is tell a deceptively simple story that elucidates big truths. ... And though the ideas are sophisticated, the storytelling is engaging enough to lure in a reader who might be put off by a doorstop of a novel. This slim volume also features illustrations by K.G. Campbell... [which] jell seamlessly with DiCamillo's prose.
—Austin American Statesman

Beautifully written... The accompanying illustrations and cartoons are enchanting, and the remarkable DiCamillo demonstrates she has storytelling power to spare.
—The Chicago Tribune

Though their adventures are wild and wacky, the heart of the story is about a girl adrift and how she finds her way home. Pencil illustrations and comic book panels by K.G. Campbell complement Kate DiCamillo's text perfectly. After reading Flora and Ulysses, you'll be asking when the next installment is due.
—NPR Books

Much like its furry hero, this swiftly paced tale is full of bold leaps and surprising turns. ... K.G. Campbell's occasional drawings supplement the narrative and brilliantly interpret the characters, from the partially bald Ulysses to chain-smoking Mom. As with her previous big-hearted novels, DiCamillo proves once again that "astonishments are hidden inside the most mundane being," and gives us another fantastic story.
—The Washington Post

Beautifully written... The accompanying illustrations and cartoons are enchanting, and the remarkable DiCamillo demonstrates she has storytelling power to spare.
—The Chicago Tribune (syndicated from Tribune Newspapers)

Brilliantly written and graphically engaging, it's filled with adventure, poetry, and compassion. Worth reading, and equally appealing for kids and adults.
—The Boston Globe, Best of 2013