The Greatest Liar on Earth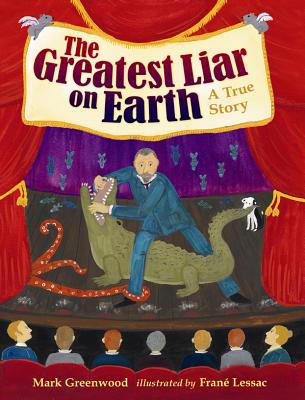 The Greatest Liar on Earth
Candlewick Press (MA), Hardcover, 9780763661557, 1pp.
Publication Date: October 9, 2012
* Individual store prices may vary.
Buy Now
or
Shop Local
Enter your zip code below to purchase from an indie close to you.
Description
Come hear the intriguing real-life tale of a man whose amazing adventure stories sounded too good to be true . . . or were they?

There is not a whisper when Louis de Rougemont steps onto the stage to recount his astonishing experiences on the sea and in lands far away. It is a breathtaking tale of catastrophe and miraculous events. A monster with enormous tentacles! A sea turtle big enough to ride! Fish raining from the sky! Cannibals! But critics say he is an imposter with a gift for spinning yarns. Are Louis's tales true? Or is he the greatest liar on Earth? Bold, whimsical artwork brings to life the tale of an early-twentieth-century man who held audiences rapt while his critics dubbed him a hoaxer of the highest degree. A fun slice of history sure to inspire a lively discussion of truth, fabrication, and the gray areas in-between.
About the Author
Mark Greenwood is an author with a passion for Australian history. His books, "The Legend of Moondyne Joe" and "The Legend of Lasseter's Reef" have won the West Australian Premier's Award for children's books. His other books include "Magic Boomerang", "Outback Adventure" and "Our Big Island." His most recent book is "Simpson and His Donkey", illustrated by Frane Lessac.

Terry Denton has illustrated more than 100 books, twenty of which he has also written. He won both the Multicultural Book of the Year and the Best Designed Picture Book in 1993. In 2003 and 2008 he was shortlisted for the Aurealis Award. His work has also won more than 40 children's choice awards throughout Australia. In 2008 "Just Shocking!" won all six children's choice awards in Australia. He has also been shortlisted by the CBCA many times.

Frane Lessac is an American who has traveled all over the world. She now lives in Fremantle, Australia, but always looks forward to visiting Texas with her family. To bring the Lone Star State to life with gouache paints, Frane did extensive research using a video camera, a still camera, and actual and virtual tours. She is the illustrator of more than thirty books for children, including Capital! Washington D.C. from A to Z and New York, New York! The Big Apple from A to Z, both by Laura Krauss Melmed.