The Boy Who Swam with Piranhas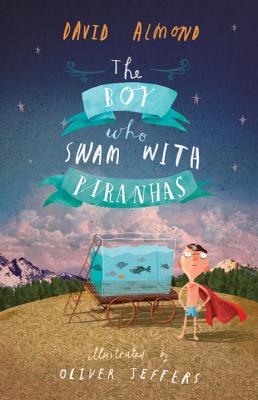 The Boy Who Swam with Piranhas
Candlewick Press (MA), Hardcover, 9780763661694, 230pp.
Publication Date: August 6, 2013
* Individual store prices may vary.
Buy Now
or
Shop Local
Enter your zip code below to purchase from an indie close to you.
Description
A boy escapes home to seek his own way in the world in a whimsical new outing by the award-winning David Almond, illustrated by Oliver Jeffers.
Stanley Potts's uncle Ernie has developed an over-the-top fascination with canning fish in the house, and life at 69 Fish Quay Lane has turned barmy. But there's darkness in the madness, and when Uncle Ernie's obsession takes an unexpectedly cruel turn, Stan has no choice but to leave. As he journeys away from the life he's always known, he mingles with a carnival full of eccentric characters and meets the legendary Pancho Pirelli, the man who swims in a tank full of perilous piranhas. Will Stan be bold enough to dive in the churning waters himself and choose his own destiny?
About the Author
David Almond is known worldwide as the multi-award-winning author of Skellig, Kit s Wilderness, and numerous other books and plays. He has received the Hans Christian Andersen Award for his lasting contributions to children's literature. David Almond lives in Northumberland, England.

Oliver Jeffers is an author and illustrator.
Praise For The Boy Who Swam with Piranhas…
A buoyant, delightfully Almond-ine coming-of-age novel about fish, fate and family; moonlight, madness and myth; runts, "Rackanruwin" and, finally, redemption.
—Kirkus Reviews (starred review)

Master storyteller Almond combines delicious wordplay, zany antics, wacky characters, and a bit of magical realism in a novel that touches the heart. Quick-paced, accessible, and enhanced by stylized cartoonlike drawings, this book is sure to be enjoyed by fans of humorous, quirky stories.
—School Library Journal

Dahl meets J. K., flavored with a soupçon of Choose Your Own Adventure, but in the end, this novel is all pure, sweet Almond. ... In the subtlest ways possible, Almond masterfully makes young readers understand this, and they will be delighted that life lessons can be administered so deliciously.
—Booklist (starred review)

This has some of the fantasy quality of a Roald Dahl novel but without the dark heart that lies at the core of many of Dahl's works. Almond's narrative is both quirky and dreamlike, and the kindness of many of the characters propels it forward with positive energy. The present-tense narration is sometimes lyrical, sometimes straightforward or confiding, and the combination of these styles is surprisingly effective. Almond has a deft touch with the moonlight and mysticism, allowing readers to linger a bit in the mystery but at the same time unspooling the tale's trajectory purposefully and thoughtfully. Jeffers' frequent and slightly offbeat monochromatic illustrations are well matched to Almond's whimsical text. ... [A] real catch.
—Bulletin of the Center for Children's Books