The Flint Heart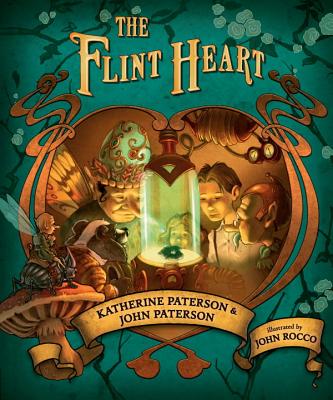 The Flint Heart
Candlewick Press (MA), Paperback, Abridged, 9780763662431, 304pp.
Publication Date: August 14, 2012
* Individual store prices may vary.
Not Currently Available for Direct Purchase
or
Shop Local
Enter your zip code below to purchase from an indie close to you.
Description
A robust and wildly entertaining fairy tale, freely abridged from Eden Phillpotts's 1910 fantasy and wryly retold by Katherine and John Paterson.

An ambitious Stone Age man demands a talisman that will harden his heart, allowing him to take control of his tribe. Against his better judgment, the tribe's magic man creates the Flint Heart, but the cruelty of it causes the destruction of the tribe. Thousands of years later, the talisman reemerges to corrupt a kindly farmer, an innocent fairy creature, and a familial badger. Can Charles and his sister Unity, who have consulted with fairies such as the mysterious Zagabog, wisest creature in the universe, find a way to rescue humans, fairies, and animals alike from the dark influence of the Flint Heart? This humorous, hearty, utterly delightful fairy tale is the sort for an entire family to savor together or an adventurous youngster to devour.
About the Author


Katherine Paterson s international fame rests not only on her widely acclaimed novels but also on her efforts to promote literacy in the United States and abroad. A two-time winner of the Newbery Medal (Bridge to Terabithia and Jacob Have I Loved) and the National Book Award (The Great Gilly Hopkins and The Master Puppeteer), she has received many accolades for her body of work, including the Laura Ingalls Wilder Medal, the Hans Christian Andersen Medal, the Astrid Lindgren Memorial Award, and the Governor s Award for Excellence in the Arts, given by her home state of Vermont. She was also named a Living Legend by the Library of Congress. She served as the National Ambassador for Young People's Literature in 2010-2011.Ms. Paterson is vice president of the National Children s Book and Literacy Alliance (www.thencbla.org), which is a not-for-profit education and advocacy organization. The NCBLA s innovative projects actively promote literacy, literature, libraries, and the arts. She is both an Alida Cutts Lifetime Member of the United States Board on Books for Young People (www.usbby.org) and a lifetime member of the International Board on Books for Young People (www.ibby.org).She and her husband, John, live in Montpelier, Vermont. They have four children and seven grandchildren. For more information, visit www.terabithia.com.

Rocco is a music journalist and editor of Dead Reckonings.
Praise For The Flint Heart…
Enchanting...A crowd-pleaser brimming with action, magic, and wit.
—Disney FamilyFun

Magical adventure...A grand tale skillfully updated and tightened up, this should win the hearts of a new generation.
—Kirkus Reviews (starred review)

Told in the voice of a storyteller in the style of A. A. Milne or J. M. Barrie, the tale will make an excellent read-aloud. . . . The Patersons have done a lovely job updating and abridging this tale for today's readers.
—School Library Journal (starred review)

The Patersons have done a stellar job of maintaining the book's period feel while creating a fresher, tighter story that feels tailor-made for family reading.
—Publishers Weekly (starred review)