More Than This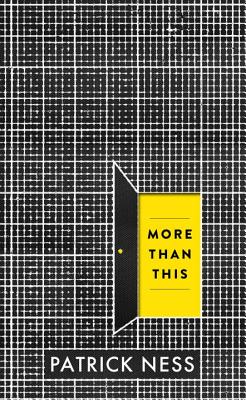 More Than This
Candlewick Press (MA), Hardcover, 9780763662585, 472pp.
Publication Date: September 10, 2013
* Individual store prices may vary.
Buy Now
or
Shop Local
Enter your zip code below to purchase from an indie close to you.
Description
From two-time Carnegie Medal winner Patrick Ness comes an enthralling and provocative new novel chronicling the life — or perhaps afterlife — of a teen trapped in a crumbling, abandoned world.

A boy named Seth drowns, desperate and alone in his final moments, losing his life as the pounding sea claims him. But then he wakes. He is naked, thirsty, starving. But alive. How is that possible? He remembers dying, his bones breaking, his skull dashed upon the rocks. So how is he here? And where is this place? It looks like the suburban English town where he lived as a child, before an unthinkable tragedy happened and his family moved to America. But the neighborhood around his old house is overgrown, covered in dust, and completely abandoned. What's going on? And why is it that whenever he closes his eyes, he falls prey to vivid, agonizing memories that seem more real than the world around him? Seth begins a search for answers, hoping that he might not be alone, that this might not be the hell he fears it to be, that there might be more than just this. . . .
About the Author
Patrick Ness is the author of the bestselling and critically acclaimed Chaos Walking trilogy, the prize-winning novel A Monster Calls, and More Than This. He has won numerous awards, including the Carnegie Medal (twice), the Galaxy National Book Award, the Guardian Children s Fiction Prize, the Costa Children s Book Award, the Booktrust Teenage Prize, the Red House Children s Book Award, and the UKLA Book Award. He lives in London.
Praise For More Than This…
Ness brilliantly plays with contrasts: life and death, privacy and exposure, guilt and innocence. In characteristic style, the author of the Chaos Walking trilogy delves into the stuff of nightmares for an existential exploration of the human psyche.
—Kirkus Reviews (starred review)

Books are often described as 'mind-blowing,' but this is one of the few books in which, while reading it, I have exclaimed aloud, 'Oh. My. God.' on multiple occasions. I won't tell you anything else about it. Just read it.
—John Green

It is a gorgeous story with masterful pacing and unforgettable passages.
—The Boston Globe