How to Train a Train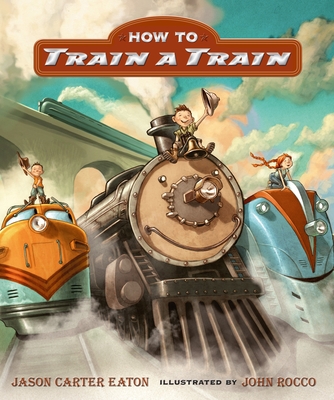 How to Train a Train
Candlewick Press (MA), Hardcover, 9780763663070, 48pp.
Publication Date: September 24, 2013
* Individual store prices may vary.
Buy at Local Store
Enter your zip code below to purchase from an indie close to you.
or
Buy Here
Description
Everything you need to know about finding, keeping, and training your very own pet train.
Finding advice on caring for a dog, a cat, a fish, even a dinosaur is easy. But what if somebody's taste in pets runs to the more mechanical kind? What about those who like cogs and gears more than feathers and fur? People who prefer the call of a train whistle to the squeal of a guinea pig? Or maybe dream of a smudge of soot on their cheek, not slobber? In this spectacularly illustrated picture book, kids who love locomotives (and what kid doesn t?) will discover where trains live, what they like to eat, and the best train tricks around everything it takes to lay the tracks for a long and happy friendship. All aboard
About the Author
Jason carter Eaton was born in several small towns throughout the United States and one in Ireland. He is the author of the picture book "The Day My Runny Nose Ran Away", which most children thought was a funny story, though it was actually a tragic autobiography. Jason also edited Professor P. S. Schackman's informative book "How to Keep Tuna Fish in Your Pocket for Weeks and Weeks Without it Going Bad". Jason currently lives in Sleepy Hollow, New York, with his beautiful wife, Lisa, their perfect son, Milo, and a giant Newfoundland mix, Pushkin. There's also a cat somewhere.

Rocco is a music journalist and editor of Dead Reckonings.
Praise For How to Train a Train…
Juxtaposing sensible tips with the absurdity of a huge pet locomotive creates a text that is at once believable and preposterous. ... But what really makes this concept roar down the track are the entrancing digitally colored illustrations that perfectly capture the expressiveness and playfulness of the pet trains. ... [T]his book is sure to be popular with train and pet lovers alike.
—School Library Journal (starred review)

Train and pet enthusiasts alike will delight in this rollicking story about selecting, naming, soothing and caring for a full-sized locomotive. ... With believable expressiveness in the characterizations of the trains and a scale perfect for groups, this affectionate sendup communicates all the exasperation, responsibility and rewards of having a pet.
—Kirkus Reviews (starred review)

Eaton's tongue-in-cheek—and eminently enjoyable text—is matched by Rocco's smooth and sleek artwork laced with whimsy.
—Booklist (starred review)

An immersive experience for junior rail fans.
—Publishers Weekly (starred review)

Eaton's fanciful, funny text is perfectly accompanied by John Rocco's energetic illustrations. ... This book is sure to be a huge hit with young railroad enthusiasts everywhere.
—BookPage

The conversational text is exploded by John Rocco's zany, digitally colored illustrations. Learn about how these mysterious beasts travel (freights move in herds, monorails alone) and what you need to trap them (big nets are good, quicksand works, but smoke signals are best). Eaton even explains how to soothe a jumpy engine: "Few trains can resist a read-aloud." Few kids, either -- especially when the subject is trains and the words go "Rocka-rocka, clickety-clack" down the track.
—The Washington Post

I saved my favorite for last. 'How to Train a Train' is exactly that: a guidebook that teaches children how to capture and tame wild trains. ... Jason Carter Eaton's deadpan prose is calibrated just-so. He wisely leaves the abundant belly laughs to John Rocco's paintings, which have their own zany style...
—The New York Times Book Review