Romeo & Juliet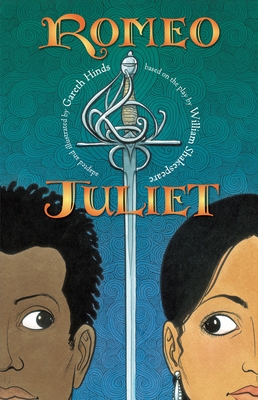 Romeo & Juliet
Candlewick Press (MA), Paperback, 9780763668075, 128pp.
Publication Date: September 10, 2013
* Individual store prices may vary.
Buy Now
or
Shop Local
Enter your zip code below to purchase from an indie close to you.
Description
A "New York Times" Bestseller
Gareth Hinds's stylish graphic adaptation of the Bard's romantic tragedy offers modern touches including a diverse cast that underscores the story's universality.
She's a Capulet. He's a Montague. But when Romeo and Juliet first meet, they don t know they re from rival families and when they find out, they don t care. Their love is honest and raw and all consuming.But it's also dangerous. How much will they have to sacrifice before they can be together?In a masterful adaptation faithful to Shakespeare's original text, Gareth Hinds transports readers to the sun-washed streets and market squares of Shakespeare's Verona, vividly bringing the classic play to life on the printed page.
About the Author
Arguably the greatest English-language playwright, William Shakespeare was a seventeenth-century writer and dramatist, and is known as the Bard of Avon. Under the patronage of Queen Elizabeth I, he penned more than 30 plays, 154 sonnets, and numerous narrative poems and short verses. Equally accomplished in histories, tragedies, comedy, and romance, Shakespeare s most famous works include Romeo and Juliet, Hamlet, Macbeth, King Lear, The Taming of the Shrew, and As You Like It.
Like many of his contemporaries, including Christopher Marlowe, Shakespeare began his career on the stage, eventually rising to become part-owner of Lord Chamberlain s Men, a popular dramatic company of his day, and of the storied Globe Theatre in London.
Extremely popular in his lifetime, Shakespeare s works continue to resonate more than three hundred years after his death. His plays are performed more often than any other playwright s, have been translated into every major language in the world, and are studied widely by scholars and students.
Gareth Hinds has retold and illustrated several classics, including Beowulf and the much-acclaimed Odyssey. He lives in Takoma Park, Maryland.
Praise For Romeo & Juliet…
Shakespeare's tragic lovers receive star treatment in this spellbinding graphic-novel production. ... As thrilling and riveting as any staging.—Kirkus Reviews (starred review)[A] striking rendition of the play. ... With its sumptuous colors and fealty to the original text, this sophisticated "comic" would suit any strong reader over the age of 12.—The Wall Street JournalCleaving to Shakespeare's words and his dramatic arc, Hinds creates another splendid graphic novel, tracing each scene in taut, coherent, and expertly deployed dialogue. Hinds's characters, in period array modified by a few more contemporary touches, are poignantly specific yet as universal as this tragic tale of young love demands. ... . Expertly pacing the drama with varied frames, often with sharp, action-propelling angles, Hinds explicates and amplifies Shakespeare's story on every page, including wordless fight scenes that highlight pivotal details. ... From swirling action to subtly delineated emotion, he delivers the play's essence and beauty, its glorious language, furious conflict, yearning love, and wrenching tragedy. This is not only a wonderfully accessible introduction to a full text or (better yet) theatrical production; it's a visual delight for anyone.—The Horn Book (starred review)The text is skillfully edited, and the panels easy to follow, especially as the warring families' costumes are color-coded. The effect is that of a good stage production: Shakespeare's language speaks clearly to modern ears.—Newsday