'Twas the Knits Before Christmas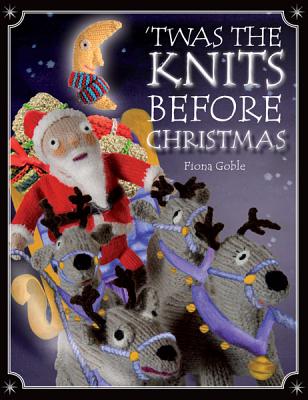 'Twas the Knits Before Christmas
Barron's Educational Series, Hardcover, 9780764164590, 64pp.
Publication Date: September 2011
* Individual store prices may vary.
Shop Local
Enter your zip code below to find indies closest to you.
Description
(back cover)
"'Twas the night before Christmas when all through the house . . .
. . . Not a creature was stirring, not even a mouse." Clement Clarke Moore's evocative 1823 poem " 'Twas the Night Before Christmas " helped to define the story of St. Nicholas, from children tucked up in bed, waiting for the big day, to the sleigh being pulled across the sky by eight reindeer.
"'Twas the Knits Before Christmas " features the poem, accompanied by beautiful color illustrations. Interspersed are patterns for creating a knitted scene that includes mom and dad, the children, Santa, eight reindeer, the moon, stockings, and toys.
Your children can play with the knitted dolls as you read the poem aloud, and you can use the miniature knits and a pattern for a full-size wreath as part of your Christmas decorations.
" Fiona Goble " has published half a dozen books on knitting, embroidery, and making soft toys, and has contributed to a number of craft magazines.
About the Author
Fiona Goble is the author of more than 20 popular craft books, including "Stitching", "Fun With Stitching, Fleecie Pets", and "Fleecie Dolls". Fiona owns a textile business making woollen bags, cushions and throws. In addition to regularly contributing to a number of craft magazines, she currently teaches sewing and other crafts to local teens and adults.
Clemency Bunn earned a degree in fine art of Aberystwyth University in Wales. She has worked as a science illustrator and has designed and illustrated stage scenery for the theater.