Your Life Still Counts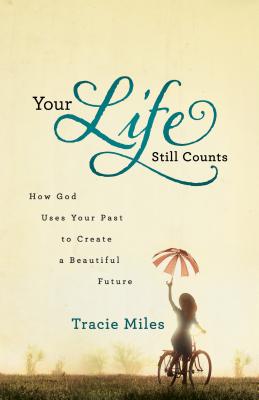 Your Life Still Counts
How God Uses Your Past to Create a Beautiful Future
Bethany House Publishers, Paperback, 9780764211997, 262pp.
Publication Date: October 21, 2014
* Individual store prices may vary.
Buy Now
or
Shop Local
Enter your zip code below to purchase from an indie close to you.
Description
God still has a plan for you--not in spite of your past, but because of it
Do regret and shame over your failures, sins, and shortcomings make you wonder how you could ever be loved, much less used, by a holy God? Tracie Miles felt the same way until she discovered the path to healing, peace, and significance.
She helps you recognize that God not only has a purpose for you, but He has prepared you for your divine purpose based specifically on the experiences of your past.
Through her own story and stories from other women who have discovered God's purpose for their lives because of adverse experiences, Tracie helps you see how God can turn pain into purpose. You will find forgiveness and healing from the troubles of your past, discover the courage to step out of your comfort zone to help others find hope and strength, and be inspired to step into the beautiful future God divinely designed for you.
"No matter what you've been through or what's been done to you, if you're still breathing, God isn't finished with you yet Let Tracie Miles help you discover your calling and the way you are uniquely equipped to make your life count "
--Renee Swope, bestselling author of "A Confident Heart" and Proverbs 31 Ministries' radio cohost, "Everyday Life with Lysa & Renee.
About the Author
Tracie Miles lives in Charlotte, North Carolina, with Michael, her husband of over two decades, and three children. She is a national conference, retreat, and keynote speaker for Proverbs 31 Ministries and the author of "Stressed-Less Living: Finding God's Peace in Your Chaotic World". She is a contributing author to "Encouragement for Today: Devotions for Everyday Living" and the Zondervan "NIV Women's Devotional Bible". She also writes for the popular Proverbs 31 Ministries "Encouragement for Today" daily email devotions, which are featured on Crosswalk and Biblegateway.

Tracie's passion is to help women move past the shame and regrets of their past and learn they are treasured and loved by the Father who gave them life. She loves meeting with women from all over the country and sharing messages of hope, redemption, and purpose in life, while helping them grow in their relationship with Christ. Her genuine southern personality and her desire to be real in sharing about life's challenges are what make women feel connected to her while drawing them closer to each other and God. For more information, visit Tracie at her blog at www.traciemiles.com, or on the Proverbs 31 speaker page at www.Proverbs31.org/speakers/tracie-miles.