New Spring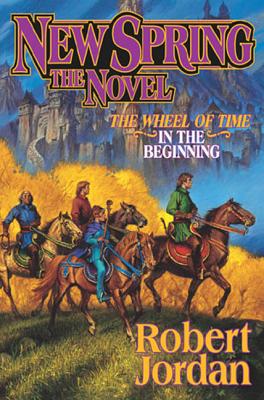 New Spring
Tor Books, Hardcover, 9780765306296, 336pp.
Publication Date: January 6, 2004
* Individual store prices may vary.
Buy at Local Store
Enter your zip code below to purchase from an indie close to you.
or
Buy Here
Description
From America's premier fantasy writer---#1 "New York Times" and "USA Today" bestselling author of "Crossroads of Twilight"---comes an expanded version of his novella "New Spring," first published in the Legends collection.
For three days battle has raged in the snow around the great city of Tar Valon. In the city, a Foretelling of the future is uttered. On the slopes of Dragonmount, the immense mountain that looms over the city, is born an infant prophesied to change the world. That child must be found before the forces of the Shadow have an opportunity to kill him. Moiraine Damodred, a young Accepted soon to be raised to Aes Sedai, and Lan Mandragoran, a soldier fighting in the battle, are set on paths that will bind their lives together. But those paths are filled with complications and dangers, for Moiraine, of the Royal House of Cairhien, whose king has just died, and Lan, considered the uncrowned king of a nation long dead, find their lives threatened by the plots of those seeking power. "New Spring" related some of these events, in compressed form; "New Spring: The Novel" tells the whole story.
About the Author
Robert Jordan was born in 1948 in Charleston, South Carolina. He taught himself to read when he was four with the incidental aid of a twelve-years-older brother, and was tackling Mark Twain and Jules Verne by five. He is a graduate of The Citadel, the Military College of South Carolina, with a degree in physics. He served two tours in Vietnam with the U.S. Army; among his decorations are the Distinguished Flying Cross with bronze oak leaf cluster, the Bronze Star with "V" and bronze oak leaf cluster, and two Vietnamese Gallantry Crosses with palm. A history buff, he has also written dance and theater criticism and enjoyed the outdoor sports of hunting, fishing, and sailing, and the indoor sports of poker, chess, pool, and pipe collecting.Robert Jordan began writing in 1977 and went on to write The Wheel of Time(R), one of the most important and best selling series in the history of fantasy publishing with over 14 million copies sold in North America, and countless more sold abroad.Robert Jordan died on September 16, 2007, after a courageous battle with the rare blood disease amyloidosis.
Praise For New Spring…
"....the new Robert Jordan might prompt fans of the best-selling fantasy author to wonder if he has simply expanded on the short story "New Spring"....as luck would have it, the short story is merely the final chapter and epilogue of the novel. That leaves 25 other chapters of pure, fresh Wheel of Time excitement...."

-John Green