Elantris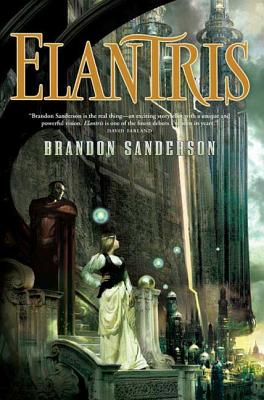 Elantris
Tor Books, Hardcover, 9780765311771, 492pp.
Publication Date: May 1, 2005
* Individual store prices may vary.
Buy at Local Store
Enter your zip code below to purchase from an indie close to you.
or
Buy Here
Description
Elantris was the capital of Arelon: gigantic, beautiful, literally radiant, filled with benevolent beings who used their powerful magical abilities for the benefit of all. Yet each of these demigods was once an ordinary person until touched by the mysterious transforming power of the Shaod. Ten years ago, without warning, the magic failed. Elantrians became wizened, leper-like, powerless creatures, and Elantris itself dark, filthy, and crumbling.
Arelon's new capital, Kae, crouches in the shadow of Elantris. Princess Sarene of Teod arrives for a marriage of state with Crown Prince Raoden, hoping -- based on their correspondence -- to also find love. She finds instead that Raoden has died and she is considered his widow. Both Teod and Arelon are under threat as the last remaining holdouts against the imperial ambitions of the ruthless religious fanatics of Fjordell. So Sarene decides to use her new status to counter the machinations of Hrathen, a Fjordell high priest who has come to Kae to convert Arelon and claim it for his emperor and his god.
But neither Sarene nor Hrathen suspect the truth about Prince Raoden. Stricken by the same curse that ruined Elantris, Raoden was secretly exiled by his father to the dark city. His struggle to help the wretches trapped there begins a series of events that will bring hope to Arelon, and perhaps reveal the secret of Elantris itself.
A rare epic fantasy that doesn't recycle the classics and that is a complete and satisfying story in one volume, Elantris is fleet and fun, full of surprises and characters to care about. It's also the wonderful debut of a welcome new star in the constellation of fantasy.
About the Author
BRANDON SANDERSON grew up in Lincoln, Nebraska. He lives in Utah with his wife and children and teaches creative writing at Brigham Young University. In addition to completing Robert Jordan's The Wheel of Time(R), he is the author of such bestsellers as the Mistborn trilogy, Warbreaker, The Alloy of Law, The Way of Kings, Rithmatist, and Steelheart. He won the 2013 Hugo Award for "The Emperor's Soul," a novella set in the world of Elantris.
Praise For Elantris…
"Elantris is a new Ben Hur for the fantasy genre, with a sweeping, epic storyline and well-drawn and sympathetic characters."-Kevin J. Anderson, New York Times bestselling coauthor of Dune: The Battle Of Corrin

"While every new fantasy author is hailed as unique, new, and different, Brandon Sanderson's Elantris does indeed provide an absorbing adventure in a unique, different, and well-thought-out fantasy world, with a few nifty twists as well."-L. E. Modesitt, Jr.

"Brandon Sanderson is the real thing--an exciting storyteller with a unique and powerful vision. Elantris is one of the finest debuts I've seen in years."-David Farland

"Brandon Sanderson's Elantris is a marvelous, magic monster of a book, packed full of intrigue and daring, based around a killer high concept. When the city of the gods becomes a city of the damned, who and what do you believe in? The story twists and turns, characters bait traps for one another as they vie for secular and religious power, and no one is necessarily who or what they seem. Royal houses rise and fall, the fate of all Humanity is in the balance, and maybe, just maybe . . . the gods are coming back. All this and a genuinely touching love story too."-Simon R. Green, the New York Times bestselling author of the Deathstalker, Nightside and Hawk & Fisher series



Sanderson is the real thing--an exciting storyteller with a unique and powerful vision. Elantris is one of the finest debuts I've seen in years

-David Farland


While every new fantasy author is hailed as unique, new, and different, Brandon Sanderson's Elantris does indeed provide an absorbing adventure in a unique, different, and well-thought-out fantasy world, with a few nifty twists as well

-L. E. Modesitt, Jr.


Elantris is a new Ben Hur for the fantasy genre, with a sweeping, epic storyline and well-drawn and sympathetic characters.

-Kevin J. Anderson


A marvelous, magic monster of a book, packed full of intrigue and daring, based around a killer high concept. All this and a genuinely touching love story too."

-Simon R. Green