The Killing of Worlds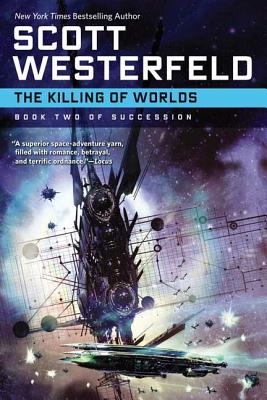 The Killing of Worlds
Tor Books, Paperback, 9780765320520, 336pp.
Publication Date: September 30, 2008
* Individual store prices may vary.
Buy Now
or
Shop Local
Enter your zip code below to purchase from an indie close to you.
Description
#1 "New York Times "bestselling author Westerfeld continues one of the first great space operas of this century
Scott Westerfeld, "New York Times" bestselling author of "Uglies," "Pretties," and "Specials," reached new heights of excitement with "The Risen Empire" and left readers begging for more. He delivers the dazzling payoff in book two, "The Killing of Worlds."
The immortal Emperor can grant a form of eternal life-after-death, creating an elite known as the Risen, and so has ruled the eighty worlds unchallenged for sixteen hundred years. The only thing he fears are the Rix, machine-augmented humans who worship AI compound minds. They are dedicated to replacing his prolonged rule with an eternal cybernetic dynasty of their own.
Brilliant tactician Captain Laurent Zai of the Imperial Frigate Lynx faces a suicide mission: stopping the next thrust of the Rix invasion with just his own vessel. While ship-to-ship combat rages among the stars, Zai's lover, Senator Nara Oxham, is caught in a deadly political fencing match with the Emperor himself. The Emperor has a terrible secret, a secret Nara is in danger of finding out, a secret for which he would countenance the killing of worlds.
About the Author
Scott Westerfeld is the author of the Leviathan series, the first book of which was the winner of the 2010 Locus Award for Best Young Adult Fiction. His other novels include the "New York Times" bestseller "Afterworlds", the worldwide bestselling" "Uglies series, "The Last Days", "Peeps", "So Yesterday", and the Midnighters trilogy. Visit him at ScottWesterfeld.com or follow him on Twitter at @ScottWesterfeld.
Praise For The Killing of Worlds…
"In the tradition of Isaac Asimov's Foundation series and Frank Herbert's Dune books. With a light touch all his own, Westerfeld illumines the clash of mighty galactic empires by focusing on individuals who, despite the distractions of war and politics, cannot help falling in love."
--The New York Times on The Risen Empire