The Lincoln Letter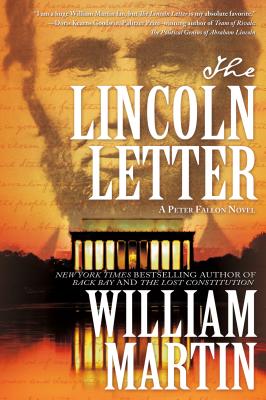 The Lincoln Letter
Forge, Hardcover, 9780765321985, 448pp.
Publication Date: August 21, 2012
* Individual store prices may vary.
Buy at Local Store
Enter your zip code below to purchase from an indie close to you.
or
Not Currently Available for Direct Purchase
Description
Treasure hunters Peter Fallon and Evangeline Carrington are heading for adventure in Washington D.C., the sleek, modern, power-hungry capital of America...and the crowded, muddy, intrigue-filled nexus of the Civil War. Their prize? A document of incredible historical importance and incalculable value: Abraham Lincoln's diary.
What if Lincoln recorded his innermost thoughts as he moved toward the realization that he must free the slaves? And what if that diary slipped from his fingers in 1862? A recently discovered letter written by Lincoln suggests that the diary exists and is waiting to be found. Some want the diary for its enormous symbolic value to a nation that reveres Lincoln. Others believe it carries a dark truth about Lincoln's famous proclamation--a truth that could profoundly impact the fast-approaching elections and change the course of a nation. Peter and Evangeline must race against these determined adversaries to uncover a document that could shake the foundation of Lincoln's legacy.
From William Martin, the "New York Times "bestselling author of "The Lost Constitution," "The Lincoln Letter" is a breathless chase across the Washington of today as well as a political thriller set in our besieged Civil War capital. It is a story of old animosities that still smolder, old philosophies that still contend, and a portrait of our greatest president as he passes from lawyer to leader in the struggle for a new birth of freedom.
About the Author
William Martin has written seven novels, an award-winning PBS documentary, and a horror movie now considered a cult classic. He is best known, however, for his historical fiction, which has chronicled the history of Boston, New England, and the nation. His first novel, Back Bay, spent fourteen weeks on the New York Times Best Seller List. His subsequent novels, including Harvard Yard, Citizen Washington, Annapolis, and Cape Cod, have established him, in the words of Publishers Weekly, as a ?storyteller whose smoothness matches his ambition.? There are now more than three million copies of his books in print. Martin was the recipient of the 2005 New England Book Award, given by the New England Booksellers Association to an author whose ?body of work stands as a significant contribution to the culture of the region.?
Praise For The Lincoln Letter…
"What an irresistible combination—a sparkling mystery, intriguing characters, and lively history. I am a huge William Martin fan, but The Lincoln Letter is my absolute favorite."
—Doris Kearns Goodwin, Pulitzer Prize–winning author of Team of Rivals

"The Lincoln Letter is an engrossing mystery, a masterful blend of the past and present.  The author captures Civil War Washington, D.C., Lincoln, and other historic figures in fine detail and historical accuracy.  The narrative is a compelling read that moves deftly, back and forth, from the 1860s to modern times.  The book should appeal to Civil War buffs and readers of mystery novels."—Jeffry D. Wert, Civil War Historian and author of The Sword of Lincoln

"William Martin is quite simply the best writer of historical suspense in the business today, and The Lincoln Letter is sensational reading even by Martin's lofty standards." 
—Michael Palmer, 16-time New York Times bestselling author of Oath of Office

"Highly imaginative, beautifully written, devilishly exciting, this explosive new thriller will excite Martin's legions of fans and win him many, many more."
—Ralph Peters, New York Times bestselling author of Cain at Gettysburg

"If you thought you knew a lot about the Civil War and Abraham Lincoln, this book will change your mind. Bill Martin has woven history and mystery into a riveting narrative you can't stop reading."
—Thomas Fleming, bestsellling author of The Intimate Lives of the Founding Fathers

"An electrifying novel of Abraham Lincoln's freeing of the slaves, the violence that ensued and how we came to be the people we are today. Shocking, terrifying, exciting, insightful."
—Larry Bond, New York Times bestselling author of Exit Plan