Sisterhood of Dune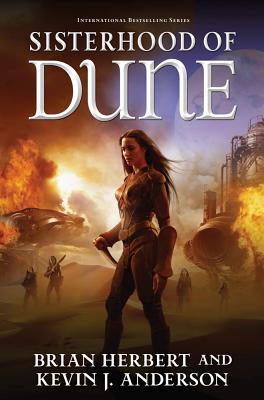 Sisterhood of Dune
Tor Books, Hardcover, 9780765322739, 496pp.
Publication Date: January 3, 2012
* Individual store prices may vary.
Buy at Local Store
Enter your zip code below to purchase from an indie close to you.
or
Buy Here
Description
It is eighty-three years after the last of the thinking machines were destroyed in the Battle of Corrin, after Faykan Butler took the name of Corrino and established himself as the first Emperor of a new Imperium. Great changes are brewing that will shape and twist all of humankind.
The war hero Vorian Atreides has turned his back on politics and Salusa Secundus. The descendants of Abulurd Harkonnen Griffen and Valya have sworn vengeance against Vor, blaming him for the downfall of their fortunes. Raquella Berto-Anirul has formed the Bene Gesserit School on the jungle planet Rossak as the first Reverend Mother. The descendants of Aurelius Venport and Norma Cenva have built Venport Holdings, using mutated, spice-saturated Navigators who fly precursors of Heighliners. Gilbertus Albans, the ward of the hated Erasmus, is teaching humans to become Mentats and hiding an unbelievable secret.
The Butlerian movement, rabidly opposed to all forms of "dangerous technology," is led by Manford Torondo and his devoted Swordmaster, Anari Idaho. And it is this group, so many decades after the defeat of the thinking machines, which begins to sweep across the known universe in mobs, millions strong, destroying everything in its path.
Every one of these characters, and all of these groups, will become enmeshed in the contest between Reason and Faith. All of them will be forced to choose sides in the inevitable crusade that could destroy humankind forever .
About the Author
Brian Herbert, the author of numerous novels and short stories, has been critically acclaimed by leading reviewers in the United States and around the world. The eldest son of celebrated science fiction author Frank Herbert, he, with Kevin J. Anderson, is the author of "Hellhole" and continues his father s beloved Dune series with books including "The Winds of Dune", "House Atreides", "Sandworms of Dune", among other bestsellers. He also wrote a biography of his father, "Dreamer of Dune". Herbert graduated from high school at age 16, and then attended U.C. Berkeley, where he earned a B.A. in Sociology. Besides an author, Herbert has been an editor, business manager, board game inventor, creative consultant for television and collectible card games, insurance agent, award-winning encyclopedia salesman, waiter, busboy, maid and a printer. He and his wife once owned a double-decker London bus, which they converted into an unusual gift shop. Herbert and his wife, Jan, have three daughters. They live in Washington State.

Kevin J. Anderson has published more than eighty novels, including twenty-nine national bestsellers. He has been nominated for the Nebula Award, the Bram Stoker Award, and the SFX Reader's Choice Award. His critically acclaimed original novels include Captain Nemo, Hopscotch, and Hidden Empire. He has also collaborated on numerous series novels, including Star Wars, The X-Files, and Dune. In his spare time, he also writes comic books. He lives in Wisconsin.