Farthing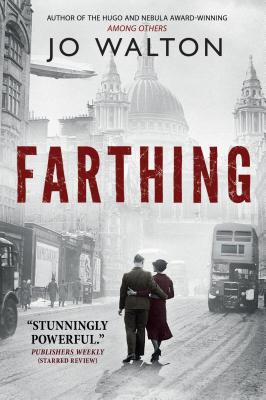 Farthing
Tor Books, Paperback, 9780765323132, 320pp.
Publication Date: March 12, 2013
* Individual store prices may vary.
Buy at Local Store
Enter your zip code below to purchase from an indie close to you.
or
Buy Here
Description
First published in 2006, Jo Walton's "Farthing" was hailed as a masterpiece, a darkly romantic thriller set in an alternate postwar England sliding into fascism.
Eight years after they overthrew Churchill and led Britain into a separate peace with Hitler, the upper-crust families of the "Farthing set" are gathered for a weekend retreat. Among them is estranged Farthing scion Lucy Kahn, who can't understand why her and her husband David's presence was so forcefully requested. Then the country-house idyll is interrupted when the eminent Sir James Thirkie is found murdered with a yellow Star of David pinned to his chest.
Lucy begins to realize that her Jewish husband is about to be framed for the crime an outcome that would be convenient for altogether too many of the various political machinations underway in Parliament in the coming week. But whoever's behind the murder, and the frame-up, didn't reckon on the principal investigator from Scotland Yard being a man with very private reasons for sympathizing with outcasts and underdogs and prone to look beyond the obvious as a result.
As the trap slowly shuts on Lucy and David, they begin to see a way out a way fraught with peril in a darkening world.
About the Author
Jo Walton won the John W. Campbell Award for Best New Writer on publication of her debut novel "The King's Peace". She won the World Fantasy Award in 2004 for "Tooth and Claw", and in 2012, the Hugo and Nebula Awards for "Among Others". In addition to writing SF and fantasy, she has also designed role-playing games and published poetry. Her song "The Lurkers Support Me In Email" has been quoted innumerable times in online discussions all over the world, frequently without attribution. A native of Wales, she lives in Montreal.

Patrick Nielsen Hayden, called by the "Washington Post" "one of the most literate and historically aware editors in science fiction," is the winner of three Hugo Awards and the World Fantasy Award for his editorial work?. He is the editor or co-editor of several original and reprint anthologies, including the "Starlight" series and the young adult anthologies "New Magics "and "New Skies."?
?As an editor at Tor Books for over 25 years, he is responsible for publishing the debut novels of many of the field's best writers, including Maureen F. McHugh, Susan Palwick, Cory Doctorow, Jo Walton, and John Scalzi.
Praise For Farthing…
"If Le Carré scares you, try Jo Walton.  Of course her brilliant story of a democracy selling itself out to fascism sixty years ago is just a mystery, just a thriller, just a fantasy—of course we know nothing like that could happen now.  Don't we?"
—Ursula K. Le Guin

"Stunningly powerful…While the whodunit plot is compelling, it's the convincing portrait of a country's incremental slide into fascism that makes this novel a standout. Mainstream readers should be enthralled as well."
—Publishers Weekly, starred review

"Amazing… One of the most compelling and chilling books of the year."
—RT Book Reviews

"A subversive, trenchant and simultaneously dark and light piece of speculative fiction. Can I get an amen? …The parallels between her Britain and today's climate are never didactic and always effective. It's also a book about husbands and wives, and about class and sex. It is quite an achievement, brothers and sisters. Hallelujah."
--Bookslut

"A stiff-upper-lip whodunit boasting political intrigue and uncomfortable truths about anti-Semitism."
 --Entertainment Weekly

"Walton realizes an all-too-convincing alternate world in which the Third Reich but not its spirit was stopped at the English Channel. The characters are highly plausible, and in every aspect from the petty snobbery hampering the inspector to the we-don't-do-that-here conclusion, the plot encourages warily reconsidering the daily news."
--Booklist

"A beautifully-written alternate history thriller by World Fantasy Award-winner Jo Walton, Farthing is a smart, convincing tale of a country's slide into fascism that's sure to entertain casual and genre readers alike."
--Cinescope