After the Golden Age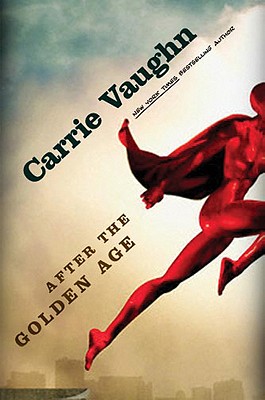 After the Golden Age
Tor Books, Hardcover, 9780765325556, 304pp.
Publication Date: April 12, 2011
* Individual store prices may vary.
Buy at Local Store
Enter your zip code below to purchase from an indie close to you.
or
Not Currently Available for Direct Purchase
Description
It's not easy being a superhero's daughter....

Carrie Vaughn has captured legions of fans with her wildly popular Kitty Norville novels. Now she uses her extraordinary wit and imagination to tell a sensational new story about superhuman heroes—and the people who have to live with them.

Most people dream of having superheroes for parents, but not Celia West. The only daughter of Captain Olympus and Spark, the world's greatest champions, she has no powers of her own, and the most exciting thing she's ever done is win a silver medal in a high school swim meet. Meanwhile, she's the favorite hostage of every crime boss and supervillain in Comemrce City. She doesn't have a code name, but if she did, it would probably be Bait Girl, the Captive Wonder.

Rejecting her famous family and its legacy, Celia has worked hard to create a life for herself beyond the shadow of their capes, becoming a skilled forensic accountant. But when her parents' archenemy, the Destructor, faces justice in the "Trial of the Century," Celia finds herself sucked back into the more-than-mortal world of Captain Olympus—and forced to confront a secret that she hoped would stay buried forever.
About the Author
Praise for Carrie Vaughn:

"Brilliantly structured, beautifully written…. Vaughn brings together mythology, fairy tales, and very human lives, immersing readers in the stories these complex characters tell themselves to make sense of their war-torn worlds."
—Publishers Weekly, starred review, on Discord's Apple

"Carrie Vaughn weaves a gorgeous tapestry of the human condition in a post-apocalyptic world filled with mystery, magic, and immortals. Her world-building is masterful!"
—L.A. Banks, New York Times bestselling author of The Thirteenth, on Discord's Apple

"Carrie Vaughn masterfully weaves together comic books, Greek gods, King Arthur, and a world on the brink of nuclear war. Discord's Apple is phenomenal!" —Jackie Kessler, co-author of Shades of Gray, on Discord's Apple

"Enough excitement, astonishment, pathos, and victory to satisfy any reader."
—Charlaine Harris on Kitty and the Midnight Hour
Praise For After the Golden Age…
Praise for Carrie Vaughn:

"Brilliantly structured, beautifully written…. Vaughn brings together mythology, fairy tales, and very human lives, immersing readers in the stories these complex characters tell themselves to make sense of their war-torn worlds."
—Publishers Weekly, starred review, on Discord's Apple

"Carrie Vaughn weaves a gorgeous tapestry of the human condition in a post-apocalyptic world filled with mystery, magic, and immortals. Her world-building is masterful!"
—L.A. Banks, New York Times bestselling author of The Thirteenth, on Discord's Apple

"Carrie Vaughn masterfully weaves together comic books, Greek gods, King Arthur, and a world on the brink of nuclear war. Discord's Apple is phenomenal!" —Jackie Kessler, co-author of Shades of Gray, on Discord's Apple

"Enough excitement, astonishment, pathos, and victory to satisfy any reader."
—Charlaine Harris on Kitty and the Midnight Hour