A Memory of Light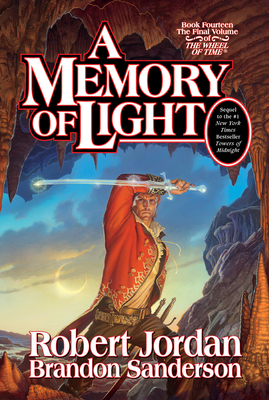 A Memory of Light
Tor Books, Hardcover, 9780765325952, 909pp.
Publication Date: January 8, 2013
* Individual store prices may vary.
Buy Now
or
Shop Local
Enter your zip code below to purchase from an indie close to you.
Description
Since 1990, when Robert Jordan's The Wheel of Time(r) burst on the world with its first book, "The Eye of the World, " readers have been anticipating the final scenes of this extraordinary saga, which has sold over forty million copies in over thirty languages.
When Robert Jordan died in 2007, all feared that these concluding scenes would never be written. But working from notes and partials left by Jordan, established fantasy writer Brandon Sanderson stepped in to complete the masterwork. With "The Gathering Storm" (Book 12) and "Towers of Midnight "(Book 13) behind him, both of which were # 1 "New York Times" hardcover bestsellers, Sanderson now re-creates the vision that Robert Jordan left behind.
Edited by Jordan's widow, who edited all of Jordan's books, "A Memory of Light" will delight, enthrall, and deeply satisfy all of Jordan's legions of readers.
The Wheel of Time turns, and Ages come and pass.
What was, what will be, and what is,
may yet fall under the Shadow.
"Let the Dragon ride again on the winds of time.
About the Author
Robert Jordan was born in 1948 in Charleston, South Carolina. He taught himself to read when he was four with the incidental aid of a twelve-years-older brother, and was tackling Mark Twain and Jules Verne by five. He is a graduate of The Citadel, the Military College of South Carolina, with a degree in physics. He served two tours in Vietnam with the U.S. Army; among his decorations are the Distinguished Flying Cross with bronze oak leaf cluster, the Bronze Star with "V" and bronze oak leaf cluster, and two Vietnamese Gallantry Crosses with palm. A history buff, he has also written dance and theater criticism and enjoyed the outdoor sports of hunting, fishing, and sailing, and the indoor sports of poker, chess, pool, and pipe collecting. Robert Jordan began writing in 1977 and went on to write The Wheel of Time(r), one of the most important and best selling series in the history of fantasy publishing with over 14 million copies sold in North America, and countless more sold abroad. Robert Jordan died on September 16, 2007, after a courageous battle with the rare blood disease amyloidosis.

Brandon Sanderson is the author of the #1 New York Times bestseller Steelheart, the first book in the Reckoners series, and the internationally bestselling books in the Stormlight Archive and the Mistborn series. He was also chosen to com-plete Robert Jordan s The Wheel of Time series. His books have been published in more than twenty-five languages and have sold millions of copies worldwide. He lives and writes in Utah. To learn more about Brandon and his books, visit him at brandonsanderson.com and follow @brandsanderson on Twitter.
Praise For A Memory of Light…
"The battle scenes have the breathless urgency of firsthand experience, and the . . . evil laced into the forces of good, the dangers latent in any promised salvation, the sense of the unavoidable onslaught of unpredictable events bear the marks of American national experience during the last three decades, just as the experience of the First World War and its aftermath gave its imprint to J. R. R. Tolkien's work."—The New York Times on The Wheel of Time®
Sunday, Jan 6, 2013
After more than 20 years, The Wheel of Time series is ending with the release of the 14th volume, A Memory of Light. NPR's Petra Mayer has read all of the books � plus the prequel � and she says that while the writing is workmanlike, the vast world that author Robert Jordan created will suck you in. More at NPR.org
Saturday, Dec 29, 2012
It's the moment fantasy fans have been waiting for: the finale of Robert Jordan's epic "Wheel of Time" series is at hand! We've got an exclusive first read of the 14th and last volume � the forces of Light and Shadow are about to fight their climactic battle, ending an Age and possibly shattering the world. More at NPR.org