A Dog's Purpose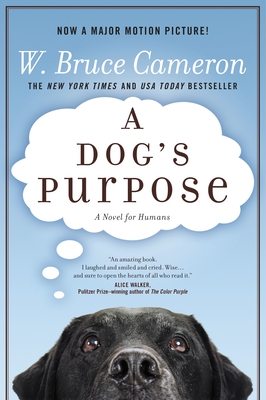 A Dog's Purpose
Forge, Hardcover, 9780765326263, 319pp.
Publication Date: July 6, 2010
* Individual store prices may vary.
Buy at Local Store
Enter your zip code below to purchase from an indie close to you.
or
Buy Here
Description
This is the remarkable story of one endearing dog's search for his purpose over the course of several lives. More than just another charming dog story, "A Dog's Purpose" touches on the universal quest for an answer to life's most basic question: Why are we here?
Surprised to find himself reborn as a rambunctious golden-haired puppy after a tragically short life as a stray mutt, Bailey's search for his new life's meaning leads him into the loving arms of 8-year-old Ethan. During their countless adventures Bailey joyously discovers how to be a good dog.
But this life as a beloved family pet is not the end of Bailey's journey. Reborn as a puppy yet again, Bailey wonders will he ever find his purpose?
Heartwarming, insightful, and often laugh-out-loud funny, "A Dog's Purpose" is not only the emotional and hilarious story of a dog's many lives, but also a dog's-eye commentary on human relationships and the unbreakable bonds between man and man's best friend. This moving and beautifully crafted story teaches us that love never dies, that our true friends are always with us, and that every creature on earth is born with a purpose.
About the Author
W. BRUCE CAMERON is the "New York Times "bestselling author of "A Dog's Purpose," " A Dog's Journey "and "The Dogs of Christmas." He lives in California.
Praise For A Dog's Purpose…
"I loved the book and I could not put it down.  It really made me think about the purpose of life.  At the end, I cried."--Temple Grandin, New York Times bestselling author of Animals in Translation
"Marley and Me combined with Tuesdays with Morrie."--Kirkus Reviews
"A Dog's Purpose is the most accurate window into a dog's mind I have ever encountered. I couldn't put it down, and once I finished it, I actually felt is if my dog, who had recently passed away, was speaking to me through this book. A triumph, impeccably detailed with intelligence and heart."--Dina Zaphiris, Host, "Petfinder" Animal Planet
"A Dog's Purpose takes the reader on a special journey, exploring the mysterious and marvelous bond between people and animals. Bruce Cameron spins a tale of tails that wag, lessons that are learned, and special relationships that shine with courage and devotion. A good book to read with your best friend at your side." --Tony La Russa, manager of the St. Louis Cardinals and co founder of the Animal Rescue Foundation
"Finally, a fictional dog who is a real dog! Anyone who has ever loved a dog needs to read this wise, touching, often hilarious book. Bailey, the narrator, tells the absolute dog truth about how intuitive your dog is, how profoundly your dog loves you (and how very much they love to roll in road kill, and how puzzled they are that you don't love it, too). Most importantly, this book allows the reader to intimately experience a genuine dog's eye view of the bond between dogs and humans, and how nothing, not even death, can ever end that bond."--Dr. Marty Becker, Resident Veterinarian on Good Morning America and the Dr. Oz Show
"This book is a classic. A beautiful, uplifting, tenderly told, frequently funny, and exquisitely moving story…I am awash in the tears of recognition every dog lover will shed when they read this remarkable book."—Iris Dart, New York Times bestselling author of Beaches
"
This is an exquisite, magical, fantastic book.  I devoured it in a, "I-resent-anything-that-prevents-me-from-getting-back-to-the-book-why-do-I-have-to-work-my-kid-is-almost-six-can't-he-drive-himself-to-school?" way.  I adored Bailey, the dog narrator, and though I got teary, I absolutely loved this book.  You should quickly fetch "A Dog's Purpose," an exemplar of the literary canine canon."--Duncan Strauss, Host,"Talking Animals" NPR This wonderfully imagined, inspirational tale is told by a spiritual guide dog who teaches us that our life's purpose is best accomplished when the word "love" is a verb. Bailey the dog knows the profound truths: there is no death, and fear is our greatest enemy. If you are a human, you need to read this treasure of a book.--Dannion Brinkley, New York Times Best Selling Author, "Saved By the Light" "I finished this book and wanted to read it all over again. A funny, enchanting, and utterly believable story of the multiple lives of a most articulate canine,
A Dog's Purpose
convinced me that there must be reincarnation and that author W. Bruce Cameron was once a dog. How else could he so poignantly detail life, love, and loyalty from the four-pawed point of view?" -- Victoria Moran, author of
Living a Charmed Life
 "Usually when I read a book this brilliantly written, I wish I had written it, but in this case I'm just grateful it was written at all. For years I grieved and agonized over the choices I made in caring for my dog at the end of her life, but after hearing from Bailey how deeply our dogs feel what we humans go through, I know my dog loved me till the end, and loves me still, as I love her. This book healed me."-- Cathryn Michon, author of
The Grrl Genius Guide to Life