The Gate Thief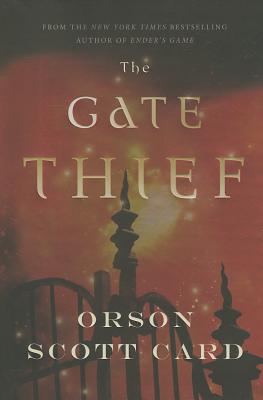 The Gate Thief
Tor Books, Hardcover, 9780765326584, 384pp.
Publication Date: March 19, 2013
* Individual store prices may vary.
Not Currently Available for Direct Purchase
or
Shop Local
Enter your zip code below to purchase from an indie close to you.
Description
In this sequel to "The Lost Gate," bestselling author Orson Scott Card continues his fantastic tale of the Mages of Westil who live in exile on Earth in "The Gate Thief," a novel of the Mither Mages.
Here on Earth, Danny North is still in high school, yet he holds in his heart and mind all the stolen outselves of thirteen centuries of gatemages. The Families still want to kill him if they can't control him and they can't control him. He is far too powerful.
And on Westil, Wad is now nearly powerless he lost everything to Danny in their struggle. Even if he can survive the revenge of his enemies, he still must somehow make peace with the Gatemage Daniel North.
For when Danny took that power from Loki, he also took the responsibility for the Great Gates. And when he comes face-to-face with the mages who call themselves Bel and Ishtoreth, he will come to understand just why Loki closed the gates all those centuries ago.
About the Author
Born in Richland, Washington, in 1951, Orson Scott Card grew up in California, Arizona, and Utah. He lived in Brazil for two years as an unpaid missionary for the Mormon Church and received degrees from Brigham Young University and the University of Utah. The author of numerous books in several genres, Card is best known for Ender s Game and his online magazine, Orson Scott Card s InterGalactic Medicine Show (www.oscIGMS.com). He teaches writing and literature at Southern Virginia University and lives with his family in Greensboro, North Carolina.
Praise For The Gate Thief…
"Mr. Card is giving a kind of tour of fantasy possibilities while integrating them into his intricately imagined system of magic. One of the system's charms is that it explains such a lot: what ghosts are (the fading "outselves" that mages can project), what fairies are (playful creations that mages make from trash, plants and petals), and why all Indo-European gods have such strong family resemblances. The hints of real history behind the families are especially enticing: I look forward to learning more." 
—The Wall Street Journal on The Lost Gate